Horry County denies all allegations in sexual assault lawsuit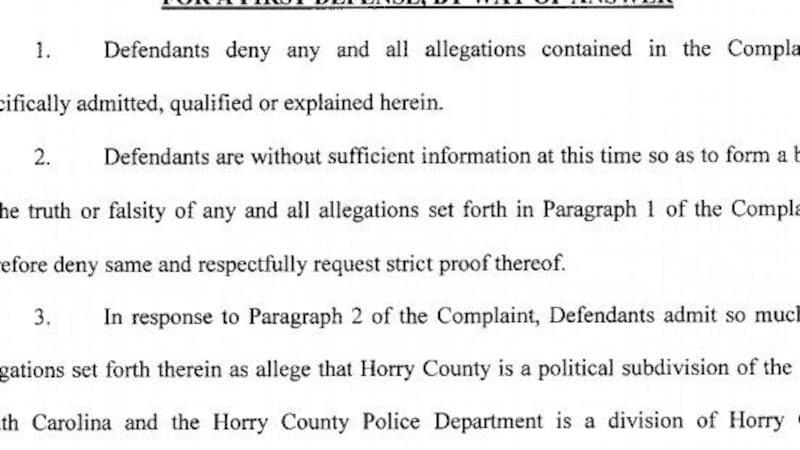 Published: Mar. 2, 2016 at 1:58 AM EST
|
Updated: Mar. 2, 2016 at 12:43 PM EST
HORRY COUNTY, SC (WMBF) - Horry County and the Horry County Police Department deny all allegations made against them in a lawsuit accusing a former detective of sexual assault.
In an answer filed by attorney Samuel Arthur III, the county lays out its defense of the December lawsuit's complaint.
In the original complaint, the plaintiff, listed as "Jane Doe," said an unnamed detective sexually assaulted her over a six-month period. She alleges he then went on to sexually abuse more women as an investigator with the department.
In the county's answer, filed just last week, it has 14 different defenses to that original lawsuit.
One defense claims the alleged actions, content or omissions were not motivated by evil intent or reckless indifference. The county also calls into question the truth of the claims, since the victim remains unidentified.
Neither Horry County nor the police department commented on the situation today, saying they don't speak about pending litigation.
The state law enforcement division couldn't comment either, but confirms the investigation into the former detective is ongoing.
WMBF News did speak with the attorneys who filed the lawsuit back in December. They say these answers are fairly normal, adding the document wasn't provided to them until Tuesday.
View the documents below:
Copyright 2016 WMBF News. All rights reserved.