Elvis family starts petition to remove judge from daughter's murder trial
Published: Dec. 16, 2015 at 9:19 PM EST
|
Updated: Dec. 18, 2015 at 6:46 AM EST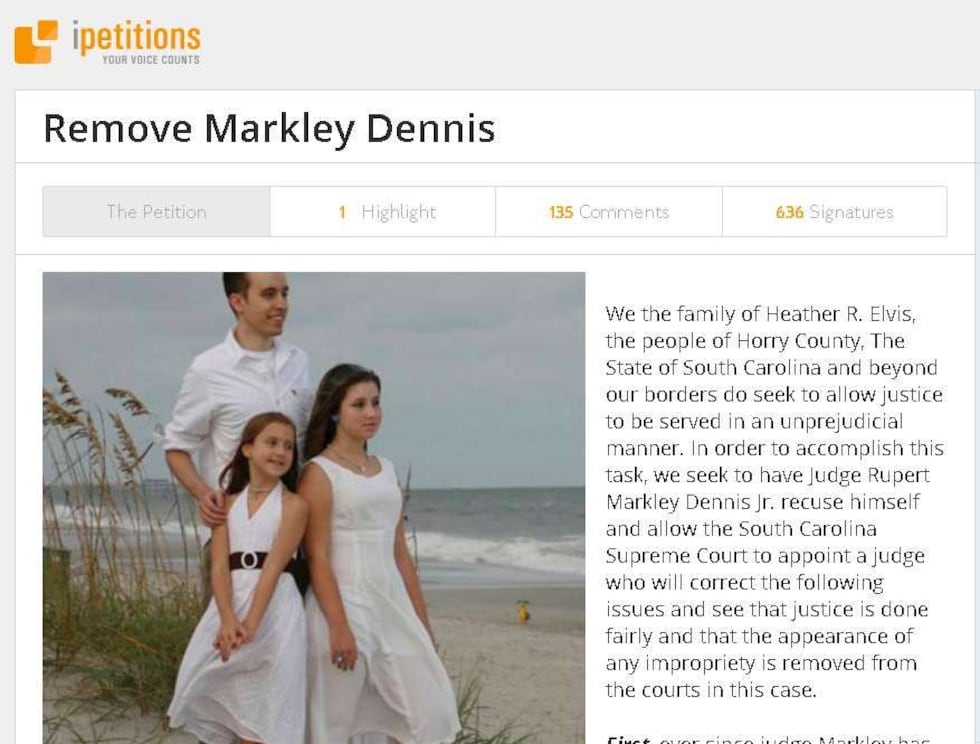 MYRTLE BEACH, SC (WMBF) – The family of missing woman Heather Elvis has created an online petition to remove Judge R. Markley Dennis, Jr. from their daughter's murder case.
The petition outlines three reasons why the Elvis family is seeking to have Judge Denis recuse himself from the trial of Tammy and Sidney Moorer, the couple accused of kidnapping and murdering Heather Elvis in December 2013.
"We're really tired of it," said Heather's father Terry Elvis. "We're going to fight back."
The petition states that the family has undergone hardship by having to travel three hours round trip to the Charleston court where Judge Dennis presides for hearings in the case, forcing them to close their business while they travel.
The petition also claims that they were denied their right to speak at the last bond modification hearing, in which the Moorers were allowed to travel outside the state for work.
Finally, the petition states that Judge Dennis was a schoolmate of Sidney Moorer's father, and the Elvis family questions Judge Dennis's ability to be fair and impartial on the case. The petition argues the previous judge, Judge Johns, denied the Moorers bond, but Judge Dennis granted them both bond, and modifications to their bond allowing them to live and work out of state.
The petition was created on December 16, and had over 700 signatures within the first hours after its creation. The petitions goal is to collect 5,000 signatures.
"I don't think that the judge would be inappropriate in this case, but it does give the appearance of it, based on his rulings and the way he's acted in the courtroom so far," said Debbi Elvis, Heather's mother.
Both Tammy and Sidney Moorer were granted bond by Judge Dennis in February of this year, after nearly a year behind bars in Horry County. Later this year, Judge Dennis granted both Moorers a bond modification that allowed them to live and work in Florida.
The Moorers' murder trial was originally scheduled to take place in May 2015, but was delayed indefinitely back in March.
Related Links:
Petition: Remove Markley Dennis
Story: Judge allows Tammy Moorer to live and work in Florida
Story: Timeline of events in the Heather Elvis case
Copyright 2015 WMBF News. All rights reserved.