Knee-deep flooding in Murrells Inlet neighborhoods
Published: May. 17, 2012 at 3:56 AM EDT
|
Updated: Jun. 19, 2012 at 3:36 PM EDT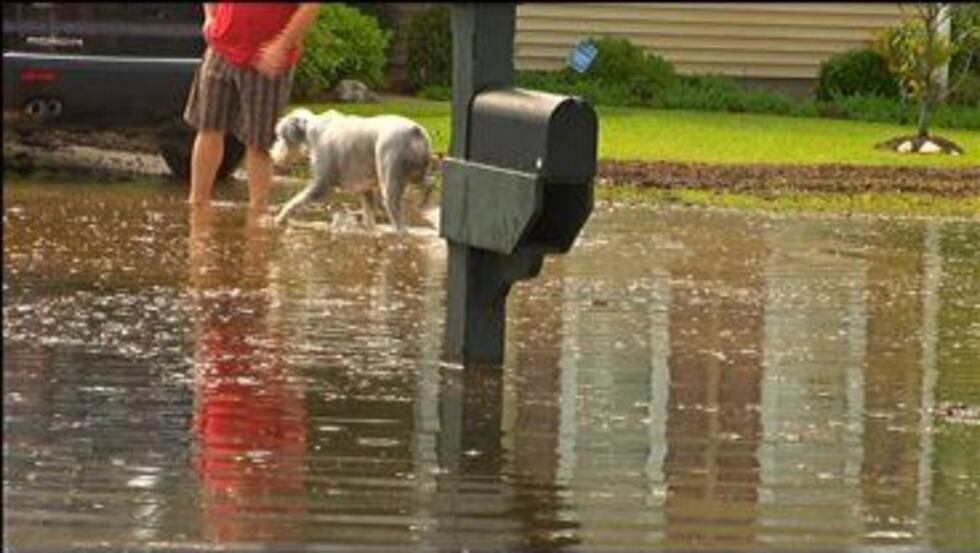 MURRELLS INLET, SC (WMBF) Severe flooding created a big hassle for a number of Murrells Inlet neighborhoods Wednesday afternoon.
Two neighborhoods hit by the flooding were the Cypress Estates and Linksbrook neighborhoods, each seeing between 6 and 24 inches of water in the streets in some parts.
Linksbrook resident Roberta Shlicht said water almost reached her home.
"Every time a car went by we thought water was going in our garage like a boat," Shlicht said.
The flooding also created tough conditions for drivers, some of which had to be rescued by two trucks after getting stuck in the water.  Linksbrook resident Kelly Sturgill said it was frustrating to watch driver trying to get in and out of the neighborhood.
"[They] try to start driving here and they realize how deep it is and their cars get stuck," Sturgill said.
The Inlet Square Mall in Murrells Inlet also experienced a large amount of flooding in surrounding parking lots, causing some stores to close early, according to some mall shop employees.
But not everyone said they were upset by the flooding.  Murrells Inlet resident John Thomas brought his ten year old Jack Russell Terrier, Rachel to the mall parking to play in the standing water while his wife shopped.
"She loves to swim and play in the water," Thomas said.  "I act like I'm throwing stuff, and she chases it and tries to bring it back to me."
Much of the floodwater in Murrells Inlet had drained by late Wednesday night, but South Carolina Patrol had several roads in Georgetown County shut down due to flooding as of news time.
Copyright 2012 WMBF News, All Rights Reserved