Double murder suspect sentenced to life in prison
Published: Sep. 14, 2011 at 1:12 AM EDT
|
Updated: Oct. 11, 2011 at 12:51 PM EDT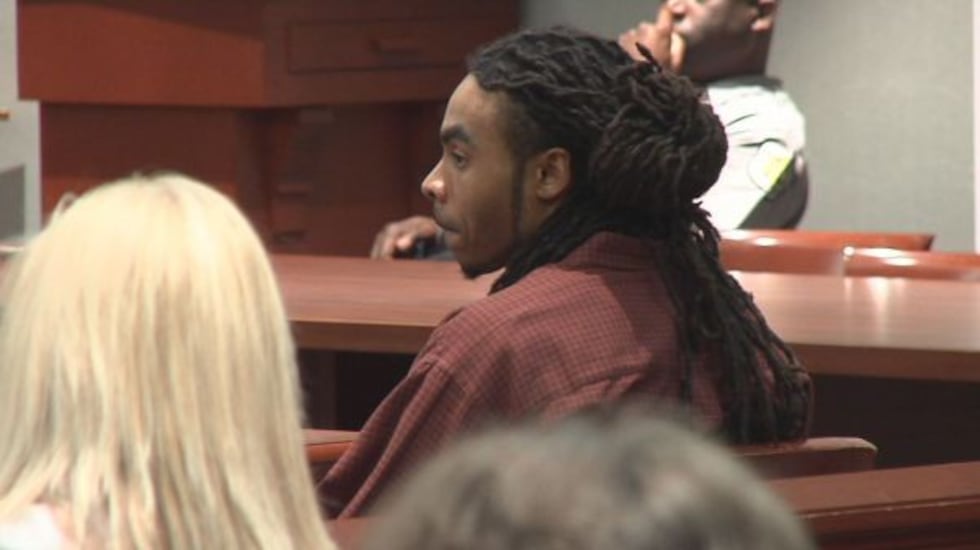 By Brandon Herring - bio | email
CONWAY, SC (WMBF) - The jury returned a guilty verdict Wednesday afternoon in the trial of a man accused in the April 2005 murder of Charlie and Diane Parker in Horry County.
For each of the two murder charges, Judge Steven John sentenced Bruce Antwain Hill, of Tabor City, NC, to life in prison without the possibility of parole.  Hill was also found guilty of burglary, and John sentenced Hill to 30 years in prison for that crime. The sentences will run at the same time.
The verdict took jurors less than two and a half hours to reach.
Earlier in the day the prosecution called three witnesses before resting the state's case. Those witnesses helped Solicitor Greg Hembree connect Hill to the Parkers. Myrtle Beach Police Officer Richard Beatty testified that he made a traffic stop on Hill on Ocean Boulevard later in April 2005, after the murders. In the car with Hill was Kahlil Moore, Beatty said, a former employee of Charlie Parker's glass business.
Another former employee of the business, George Carrick, said Moore spent a lot of time with the Parkers, including meals inside their home.
DNA was even more important to the prosecution's case. Blood found in the Parker's bedroom was not linked to anyone in 2005. However, it matched Hill in 2009 when his DNA was entered into a national database. The reason Hill's DNA was entered into the database was never mentioned in the trial. However, Horry County Police had released that information in June of 2009; Hill was being processed through a prison in Tennessee when his DNA sample was taken and entered in the database.
In his closing argument Solicitor Greg Hembree focused on the DNA evidence.
"There is no question, no doubt it was Bruce Hill's blood that was in that house," Hembree said to the jury. "One in 3.3 quadrillion? These numbers are a million time more than the people on the planet. There is no question. There is no doubt Bruce Hill was in that house. Bruce Hill was in that house at the time the Parkers were killed and burglarized and robbed. There is no doubt."
Hill did not testify, and defense attorney Ron Hazzard did not call any witnesses.
During his closing argument Hazzard raised questions about how the DNA evidence was handled. He said the labeling system was insufficient and questioned if DNA from another crime scene could have been sent off for testing in regards to the Parkers murders.
"You just take stuff and throw it in the bucket," Hazzard said about the evidence handling process used by Horry County Police. "They say, 'here we need to have this go up the road and have it tested.' Does that make you more secure that the right sample went where it was supposed to go?" Hazzard asked the jury.
Another man has also been convicted in the murders and burglary of the Parkers. In 2008, Richard Gagnon was sentenced to life in prison for the crimes. His involvement was never mentioned in Hills trial. Gagnon was dating Diane Parker's daughter and Charlie Parker's stepdaughter at the time of their deaths.
The trial took only about a day and a half. Opening statement began late Monday, and closing arguments wrapped by 1 p.m. Wednesday.
Prosecutors called 12 witnesses Tuesday to testify about the key to the prosecution's case - DNA. Photos showed the crime scene, the home on Highway 90 where the Parkers were found dead. Some photos were hard for family and friends to see, but Solicitor Greg Hembree used them to show the jury what evidence was found, especially blood drops. Horry County Police crime scene investigator Robbie Caulder and other witnesses repeatedly told the jury how carefully that blood evidence was handled.
"It's sealed. It's place in this cardboard box that had already been marked on it. Then I handed it to another investigator. I'd call out the number, and he'd put it in the box. At that point and time it was sealed at the scene," Caulder said. "It's only opened by sled personnel to test it."
Scientists with the State Law Enforcement Division (SLED) also explained how they tested a few blood drops found in the master bedroom of the home. That blood did not match anyone until 2009.
David McClure who supervises SLED's involvement with the national DNA database said in 2009 he was alerted that Hill's DNA matched the DNA from the blood drops found 2005.
Hill's DNA was entered into the database at that time because he was being admitted to prison in Tennessee for a robbery charge.
Horry County Police Investigator Todd Cox said police then took another sample of Hill's DNA and had it tested and compared to the blood evidence gathered in 2005.
Katie Urka, who specializes in forensic DNA evidence for SLED, testified that several DNA markers between the two samples were perfect matches.
The defense pointed out a few concerns about the DNA evidence, such as how many times it changed hands, how it was collected and the fact that it was from just a few drops of blood in the whole house.
Copyright 2011 WMBF News. All rights reserved.