Craigslist scam becomes more prominent
Published: Jun. 5, 2009 at 7:42 PM EDT
|
Updated: Jun. 26, 2009 at 6:54 PM EDT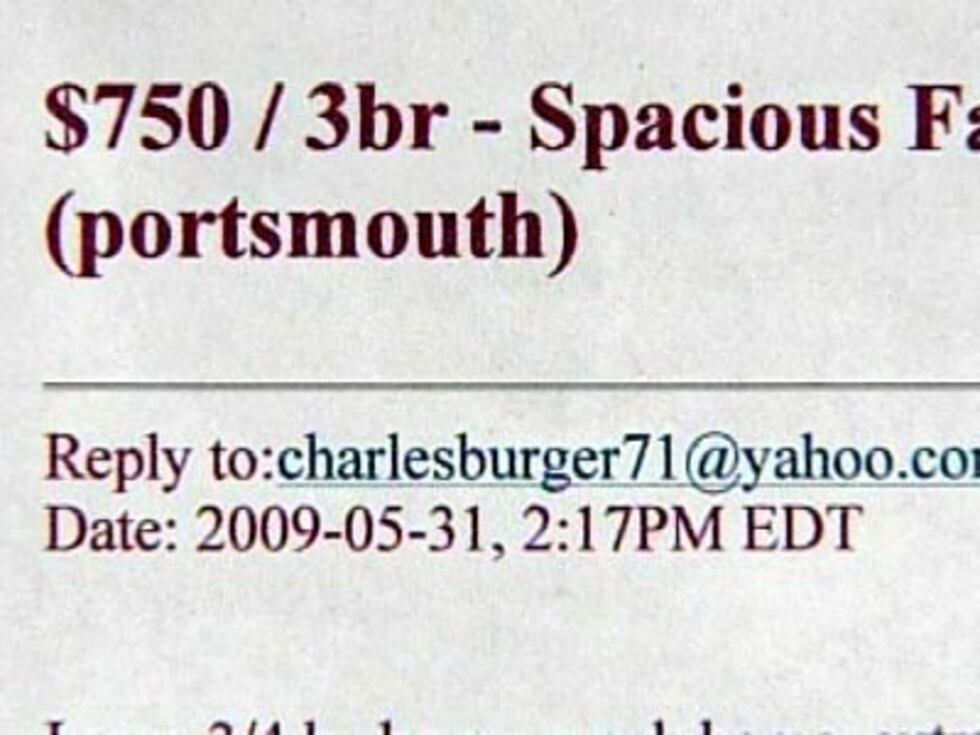 (NBC) - A Rhode Island couple's recent experience with Craigslist should serve as a warning to others.
Sue Johnson and her husband placed an ad with the online classified service to rent their three-bedroom ranch in Portsmouth. They were asking for $2,000 a month.
A man apparently saw their ad and set up a scam.
He allegedly stole the information from the Johnson's ad, and posted it on Cragislist as his own. He advertised the Johnson's house for $750.
"We had families with boxes and trucks come to the door and wanted to know who we were and why we were in their house," Johnson said.
The scam artist listed his name as 'charlesburger' in his Craigslist ad.
Johnson said the man told prospective renters that he and his wife built the Portsmouth house when they first got married. He added he was looking to rent it because he was doing business in West Africa.
People looking to rent the house were told to wire by Western Union $750 for the rent plus $400 for a security deposit to address in Lagos, Nigeria.
Craigslist has a section dedicated to scams and how people can avoid falling prey to them.
The top two tips the Web site gives is to deal locally with people you meet in person and never wire funds.
"I had read the scam info. I didn't think it would come back to me," Johnson said.
Real estate agent Candy Alves said scam artists also target real estate brokers.
"They're taking listings. A lot of our agents' listings you'll see on Craigslist for $800. These are $400,000 houses," she said.
Johnson said her story should serve as a warning to the public to beware of scams.
"If it's too good to be true, it probably is," Alves said.
Johnson said she contacted someone at Craigslist and that they were very apologetic about what happened and started an investigation.
She has taken her ad down from the website and is working through a real estate agent to rent her house.
©2009 NBC. All rights reserved. This material may not be published, broadcast, rewritten, or redistributed.