Reporter, FOX Carolina News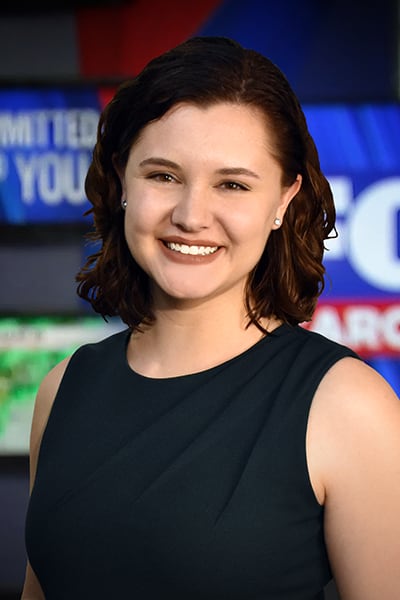 Grace Runkel joined FOX Carolina as a multi-media journalist on October 7, 2019, moving from Davenport, Iowa.
She is originally from Floyds Knobs, IN "which is near, Louisville, KY," Grace added.
Grace graduated from Loyola University Chicago with a B.A. in Journalism
"I started my career as an MMJ at WHBF in Rock Island, IL, which is part of the Quad Cities market," Grace said. "I started in September 2017 and left September 2019. I spent the entire two years reporting for the 9 and 10 o'clock news, so reporting on the morning show is something totally new for me."
The Fun Stuff
On the weekends, I love to: Explore the Upstate area, try out new restaurants, shop antique stores
My favorite movie is: I'm not sure if I have a favorite, but I'm always ready to have a Harry Potter marathon.
My favorite kind of music is: I'll listen to just about anything from musical soundtracks and classic rock, to
My favorite food is: Breakfast foods! I'm always open to good brunch recommendations.
Hidden talents: I was a competitive Irish dancer for 10 years, which meant I spent weeknights in practice and weekends travelling to competitions. Also continued dancing in college in Loyola's Irish Dance club. I can also (kind of) play the ukulele.
Hobbies: I love reading, biking, hot yoga and cooking.
Pets: None
Children: None
Most memorable story: I spent about 100 days covering historic flooding on the Mississippi River this spring. The river had a record-breaking crest in the Quad Cities and there was a breach in the flood wall, which flooded out downtown businesses. I was one of the first reporters at the scene of the breach and led our continuous live coverage. What sticks out even more are all the stories we covered after the fact about people trying to recover after flooding damaged their homes and businesses.