Reporter
Wilmington, NC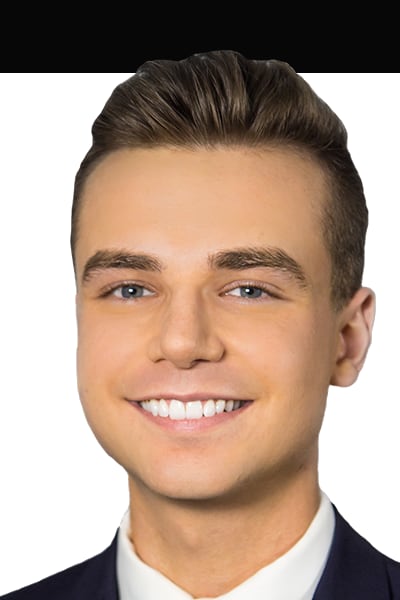 Ben Smart joined WECT as a multimedia journalist in August 2017. He's excited to join the Wilmington community and cover news stories that are important to you.
Before working full-time as a journalist, Ben completed a year of medical school at Wake Forest University, School of Medicine. There, he was actively involved in the student-run and physician-staffed clinic, "DEAC," which provides free medical care to the local, underserved community.
Ben's interdisciplinary background helps inform his reporting. He received a Bachelor of Science degree with distinction in Public Health Nutrition from the Gillings School of Global Public Health at the University of North Carolina at Chapel Hill. He also completed academic minors in Broadcast and Electronic Journalism and Spanish for the Medical Professions. During college, he also studied Spanish at the University of Costa Rica in San José. Ben also graduated as a Stembler Scholar and Honors Carolina Laureate.
In 2013, Ben joined Carolina Week, the student-run TV newscast at UNC Chapel Hill. There he worked as a reporter, producer, and anchor. His reporting work was recognized by the Association of Health Care Journalists with a 2015 Academic Health Journalism Fellowship. He also placed as a finalist in the 2016 Hearst Journalism Awards National Championship and received the award for "Best Use of Television for News Coverage." Ben's reporting has also earned awards from the Society of Professional Journalists and The Broadcast Education Association.
Ben completed internships with CBS News, CNN, KPRC, The Fountain Hills Times, and the Forsyth County Department of Public Health. He grew up in Oklahoma and Texas, and he is a proud graduate of the Academy of Science and Technology at The Woodlands College Park High School.
If you have any story ideas, contact Ben Smart at bsmart@wect.com. You can also connect with him on Facebook and Twitter.
Education
Wake Forest School of Medicine - M.D. Program (In progress)
The University of North Carolina at Chapel Hill - B.S. Public Health, Nutritional Biochemistry; Minors: Journalism, Spanish
University of San Jose in Costa Rica - Medical Spanish Study Abroad Program
Affiliations
Association of Healthcare Journalists, American College of Preventative Medicine; Education Volunteer - Cape Fear Museum of Science and History
Awards
2017 Future Leaders in Preventive Medicine (FLPM) Grant
2017 Governor's Institute Scholarship: Addiction Medicine
2016 Hearst Awards, "Best Use of Television for News Coverage"
2016 Hearst Awards National Championship Finalist
2016 BEA Television Student Hard News Competition: 2nd Place National Winner
2015 Heart College Journalism Scholarship Award for National Feature Television Reporting
2015 CBI Video News Reporting - National Finalist
2015 Academic Health Journalism Fellowship
2016 Stembler Scholar: UNC School of Media and Journalism
Updated: Jan. 9, 2019 at 5:42 PM EST
|
By
Jim Gentry
,
Clint Bullock
and
Ben Smart
A man has been charged with murder in connection to the stabbing deaths of two people in the Shallotte area early Wednesday morning and injuring another.
Updated: Nov. 1, 2018 at 10:54 PM EDT
|
By
Ben Smart
and
Clint Bullock
Nobody was injured, but the 50-foot Prestige motor yacht burned for four to five hours and is a total loss. An investigation is now underway