MYRTLE BEACH, SC (WMBF) - The team behind Fyrebird Recovery, a harm reduction nonprofit that has existed in Myrtle Beach since May of 2022, is working hard to find a new location.
The nonprofit signed a lease and moved into 606 Broadway Street on June 1. Azhane Powell, the facility's director, said she never finished unpacking all of the boxes and is now repacking them.
"It was kind of baffling when I heard it," said Powell, talking about the day she found out she would not be able to operate due to a "zoning violation."
Powell has a background in social work. She opened Fyrebird Recovery as a linkage service to other established nonprofits in the area such as Shoreline Behavioral Health and New Directions.
Fyrebird Recovery gives out free supplies to those in need such as Narcan and clean syringes. Powell said she sees a variety of health needs including those who need syringes for insulin injections, and otherwise cannot afford them.
Since the beginning of 2023, WMBF News has requested data from the City of Myrtle Beach related to overdoses and overdose deaths. Each month there has been at least one overdose-related death and anywhere between two and 10 calls for service for overdoses.
On July 14, just a month and a half after Powell opened her doors, she got a cease-and-desist letter from the city. The document stated she'd have to close or face a fine.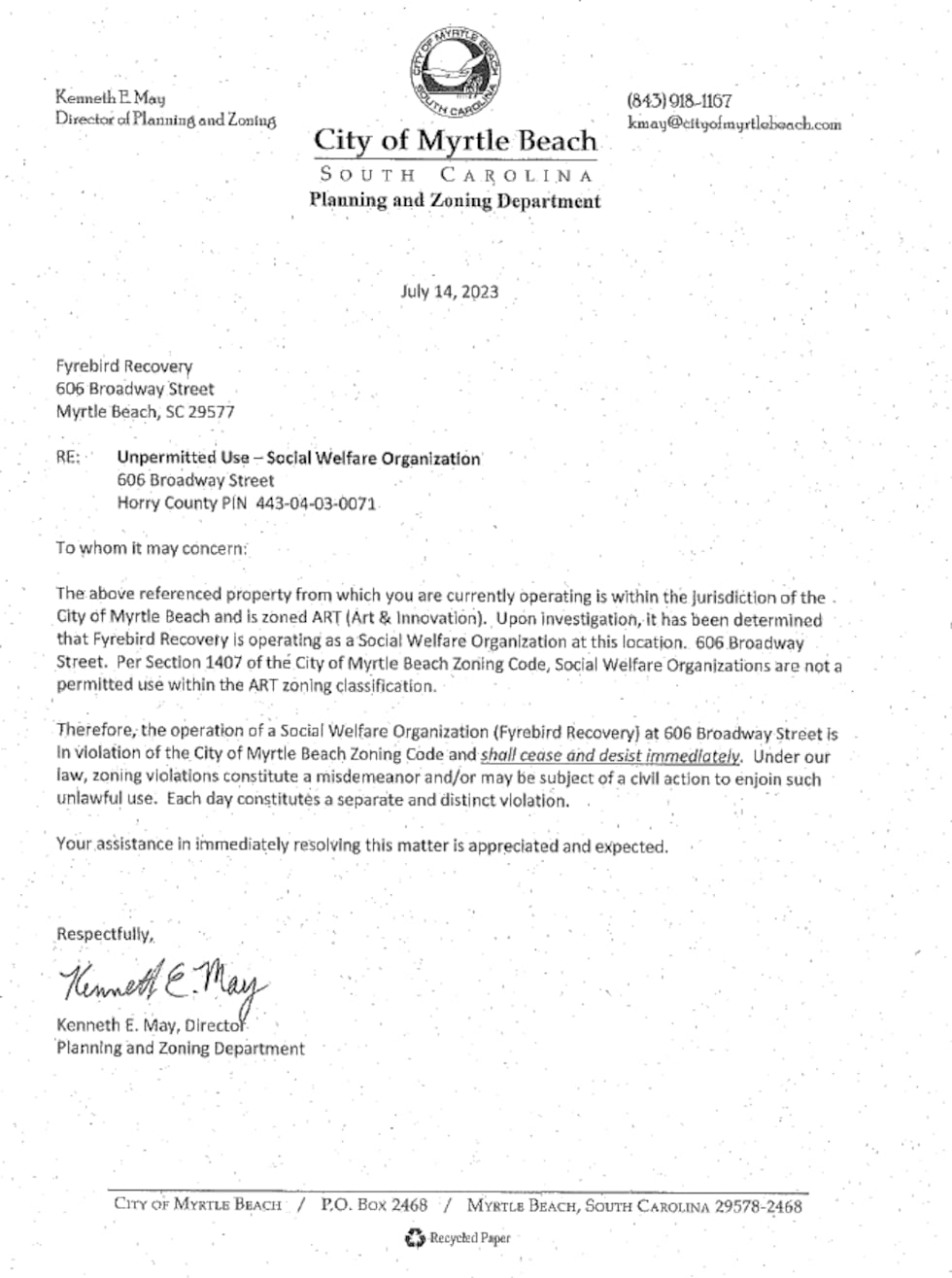 "As soon as we got that letter we have been closed to the public, we obviously have our people who have been coming and knocking and it does break our heart to have to tell them we are closed unfortunately," said Powell
The letter said that per city code social welfare organizations are not permitted to use within the Art Zoning classification.
The city's zoning map shows Broadway Street falls in C-7 zoning or downtown commercial. According to city code, social welfare organizations are allowed to be in seven different city zones, but downtown commercial is not included.
City documents related to Fyrebird Recovery show several city staff members, including police and code enforcement, set up a meeting with the organization just days before the cease-and-desist letter was sent to Powell.
A city spokesperson also said city leaders explained zoning to Powell before she received the letter.
Powell said Code Enforcement officers visited her twice. She said once to go over a trash violation and once to talk about what Powell called rumors.
"This is when the conversation of consumption sites came up. That there were rumors that four of our rooms were used for safe injection or people to come in and use...which is definitely not what we're about. We have signs. We educate everyone who comes in we are not a safe space for you to bring in your substances, that's not what we're for," said Powell.
Powell said she did what she could to shut down that rumor, but just as we were about to finish our interview with her, a Myrtle Beach police officer showed up and asked to speak with her outside.
During that conversation, the officer asked Powell if she was still handing out any sort of supplies, saying the department had received several calls related to 606 Broadway Street.
While we didn't get the officer's name, Powell said it was the first time she interacted with him. She said other officers have both driven by and stopped by her location as she and her team finish packing up.
While Powell doesn't know the next address Fyrebird Recovery will call home, she says not reopening isn't an option.
"We do have now our zoning, we are social welfare. So we are aware of what we are supposed to do. Where we can be. So we're going to be in those guidelines, so there's no issue moving forward of us closing our doors. Nor am I going to hide what we do," said Powell.
We reached out to the owner of 606 Broadway Street as well as the real estate agent Powell worked with for the lease agreement, but we have not heard back.
We also reached out to the Myrtle Beach Police Department for the number of service calls related to the property and any statement regarding the police interaction we caught on camera. A spokesperson for the department said he had no comment.
Stay with WMBF News for updates.
Copyright 2023 WMBF. All rights reserved.