TRAVEL GUIDE: Over 55 million Americans expected to travel for Thanksgiving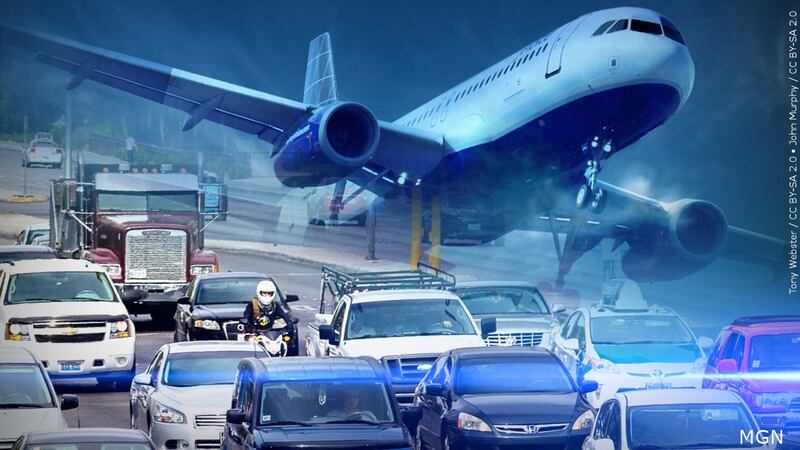 Published: Nov. 21, 2023 at 12:30 PM EST
MYRTLE BEACH, S.C. (WMBF) – Millions of people will be hitting the road or flying in the skies to their Thanksgiving travel destination this year, according to AAA.
The travel organization expects 55.4 million people to head 50 miles or more from their homes for the holiday, which is an increase of 2.3% over last year.
It also marks the third-highest Thanksgiving forecast since AAA began tracking holiday travel in 2000. The top two years were 2005 and 2019.
HEADING OUT ON THE ROAD
Most Thanksgiving travelers will pack up their cars and drive to their destination.
AAA projects 49.1 million Americans to get behind the wheel.
INRIX, a provider of transportation data and insights, expects Wednesday to be the busiest day on the roads.
INRIX recommends that people either leave before 11 a.m. or after 6 p.m. on Wednesday in order to avoid the heaviest of the holiday congestion.
For those heading back home, the best time to get in the car is before 11 a.m. or after 7 p.m. on Friday. If you head back home on Saturday or Sunday, the best time to hit the road is before noon on those days.
TRAVEL INFORMATION LINKS:
The South Carolina Department of Public Safety said it will have extra troopers and enforcement out on the highways during those busy times.
The agency is also partnering up with the South Carolina Department of Natural Resources to provide aerial enforcement support to combat aggressive drivers on Wednesday and Sunday.
For those driving to their destinations, the price to fill up is on the decline.
The national average stands at $3.29, which is a drop from $3.35 a week ago.
South Carolina has some of the lowest prices, with an average price for a gallon of gas standing at $2.93. It's a slight drop from $2.95 last week.
HITTING THE SKIES
AAA expects 4.7 million people to fly to their Thanksgiving travel, which is an increase of 6.6% compared to 2022. It will also be the highest number of Thanksgiving air travelers since 2005.
The travel organization said the Tuesday and Wednesday before Thanksgiving are the busiest air travel days.
MORE INFORMATION | Check flight status, TSA wait times at MYR
AAA said Sunday is typically the busiest day to head back home, but data also found that Monday has become a popular day to fly back.
The Myrtle Beach International Airport said that while it's not expecting any major travel headaches, it is urging travelers to arrive about two hours before your flight takes off.
The airport said people will want to allow extra drive time to the airport for holiday traffic and parking.
Copyright 2023 WMBF. All rights reserved.