'I saw a dead man come back to life': Sheriff says 'miracle' saved deputy shot in head
Published: Nov. 20, 2023 at 3:43 PM EST
|
Updated: Nov. 20, 2023 at 4:08 PM EST
GREENVILLE, S.C. (FOX Carolina) - On Thursday night after a deputy was critically wounded in the line of duty, an Upstate sheriff said he believes a miracle occurred in Greenville, South Carolina.
Corporal Lucas Watts with the Oconee County Sheriff's Office was struck by gunfire while deputies were pursuing a suspect on Nov. 16.
During a Sunday morning service at Westminster First Baptist Church, Oconee County Sheriff Mike Crenshaw opened up to his church about the extent of Watts' injuries.
"Just so you all understand the significance of his injuries, I'm not talking about a grazing wound to the head," Crenshaw said. "I'm talking about a bullet to his brain so that you understand just how significant his injury was. I didn't share that with my folks on the scene, it wasn't the time."
While Crenshaw was on scene after the shooting, he said he got a phone call saying he was needed at the hospital. He drove from Fair Play to Greenville Memorial Hospital, where he said he was told that the deputy's wounds were not survivable.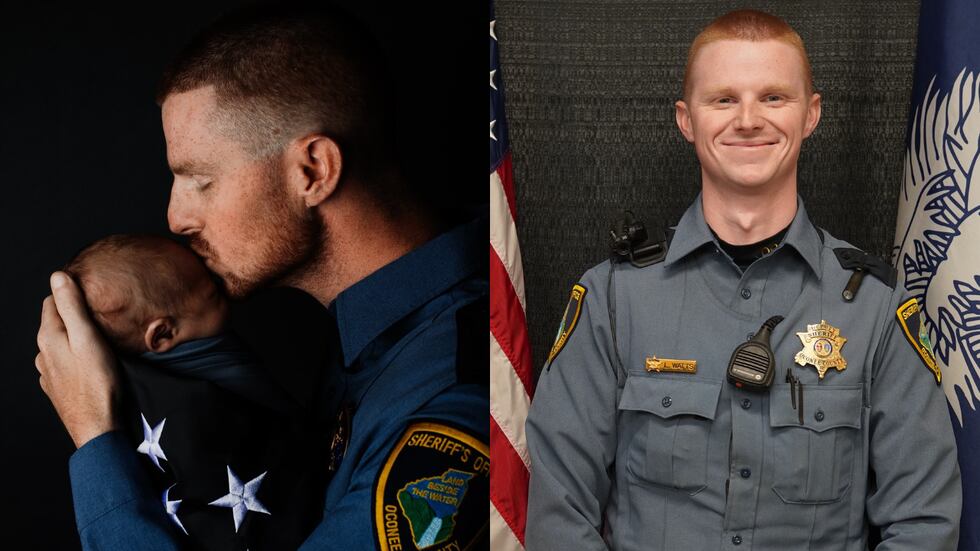 Watts' wife, who recently gave birth to their baby, told the sheriff she needed to see him.
"They carried the wife in and she touches him and he starts moving," Crenshaw told his church. "A tear rolls down his face."
Watts was rushed into a risky surgery as Crenshaw said sheriffs from across the region were texting him saying they were praying.
"And Lucas makes it through," he said. "His vitals are good. At that point I didn't know it, but social media had blown up, praying, praying, praying."
Watts made it through the surgery and through the night. On Friday, Crenshaw said he started responding to verbal commands from nurses.
"Folks, I'm here to tell you from the time he got shot to the time his wife touched him, had to be two-and-half, three hours," Crenshaw said. "I saw a dead man come back to life... because of God, and because of intervening prayer, I really believe."
Watts remains in stable but critical condition. The sheriff set up a support fund for Watts and his family, which has already raised more than $124,000.
"I don't know what tomorrow holds, but I'm telling you, God performed a miracle Thursday night in Greenville, South Carolina," Crenshaw said. "I've got no doubt in my mind."
Copyright 2023 WHNS. All rights reserved.