FIRST ALERT: Active weather on tap for the holiday week
Published: Nov. 19, 2023 at 5:50 AM EST
|
Updated: Nov. 20, 2023 at 8:03 AM EST
MYRTLE BEACH, SC (WMBF) - An active weather pattern will deliver several rain chances through this week.
TODAY
Today will be the last totally dry day until Thanksgiving. Sunny skies this morning will give way to increasing clouds by late this afternoon and evening. Temperatures will be comfortable with afternoon highs reaching the middle 60s.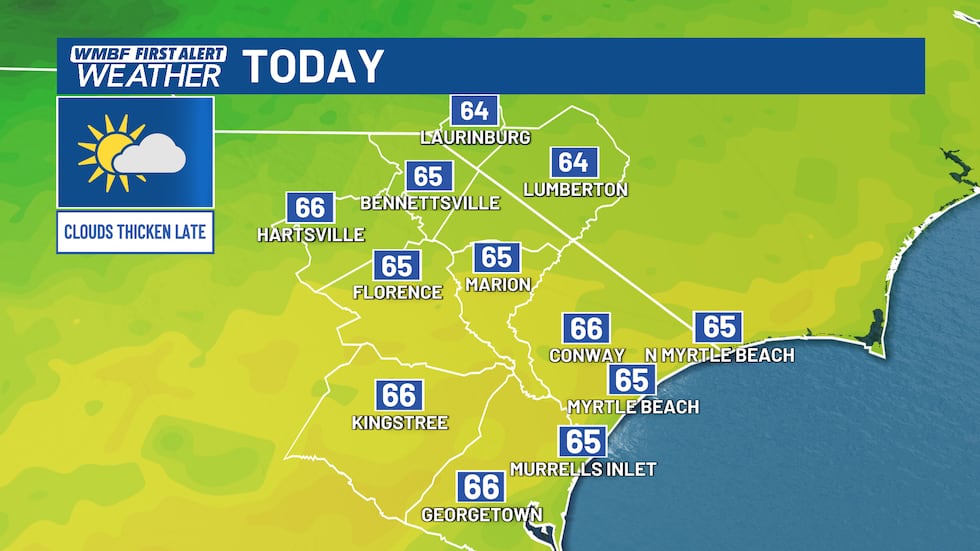 TONIGHT
Clouds will continue to thicken overnight as moisture increases across the region. After midnight, the risk of scattered showers will increase. It will be mild with overnight lows in the middle to upper 50s.
TUESDAY
A cold front will begin to approach the region on Tuesday. Ahead of the front, mild and humid air will overspread the Carolinas resulting in off and on showers and possibly even a thunderstorm. It will not be a steady rain, but instead rounds of showers will be likely from time to time. The best chance will come in the early to mid afternoon hours. Another round of showers and a few storms will arrive late Tuesday evening into Tuesday night. Highs on Tuesday will climb into the lower 70s with a gusty breeze developing.
THANKSGIVING FORECAST
Travelers on Wednesday will have to deal with lingering showers from sunrise through the midday. The showers will quickly come to an end after lunch time with areas of sunshine returning by the afternoon. Wednesday will once again be a breezy and mild day with afternoon temperatures in the upper 60s to near 70.
Thanksgiving Day will turn out clear and tranquil. Morning temperatures in the lower to middle 40s will climb to around 60 by the afternoon with plenty of sunshine.
The next system to impact the region arrives on Black Friday. Early morning shoppers will be greeted with increasing clouds and cool temperatures in the 40s. Clouds will continue to thicken with a few light showers likely by the afternoon and evening. Temperatures will climb into the lower 60s.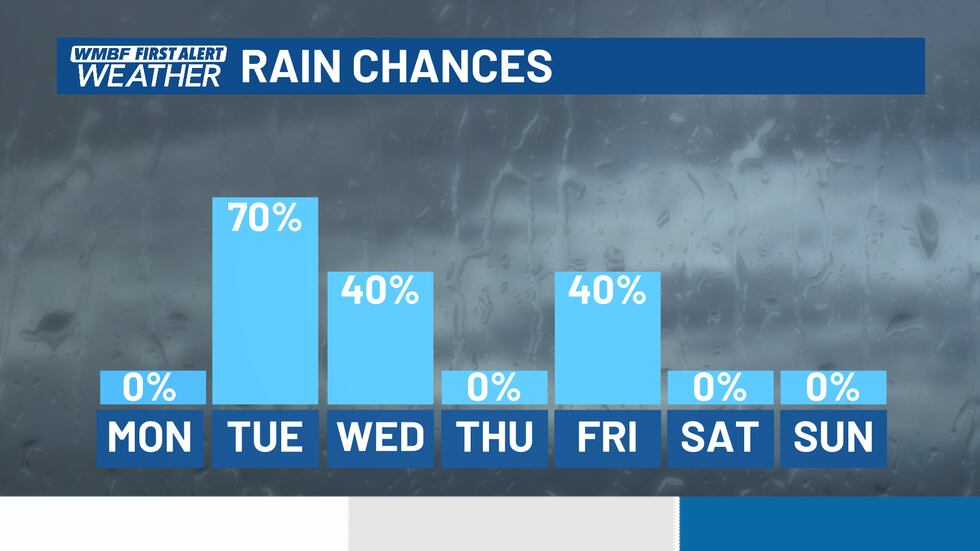 Copyright 2023 WMBF. All rights reserved.