FIRST ALERT: Brighter skies through the weekend
Published: Nov. 17, 2023 at 3:57 AM EST
|
Updated: Nov. 17, 2023 at 7:04 AM EST
MYRTLE BEACH, SC (WMBF) - Skies will begin to brighten up on Friday with plenty of sunshine on tap for the weekend.
TODAY
The area of low pressure we've been talking about most of the week will pass offshore during the day today. This will keep clouds around, but drier air in the lower parts of the atmosphere will keep rain chances limited to just 20%. Highs will climb into the low-mid 70s today under a mix of sun and clouds.
As we head into the afternoon hours, there's a good chance sunshine starts to peek through the clouds a little bit more often. Regardless, it's a lovely day for any outdoor plans. Don't let the clouds cancel your Friday evening plans.
THIS WEEKEND
Brighter skies will return by Saturday along with more warmth as temperatures to reach the low-mid 70s. A cold front will move through the Carolinas late in the day on Saturday, ushering in cooler and drier air. That drier air will completely clear out the cloud cover, bringing clear skies Saturday afternoon and into the evening hours.
We'll feel the effects of the cold front come Sunday. Cooler temperatures and a gusty wind will return to the region on Sunday when afternoon readings only reach the lower 60s. Thankfully, sunshine continues for any plans Sunday as well.
NEXT WEEK
A more active weather pattern returns early next week with the best chance of rain arriving on Tuesday. We know many of you are traveling for Thanksgiving, so just plan on rain becoming likely by Tuesday. A cold front will move into the Carolinas bringing a 60% chance of showers and a few rumbles of thunder Tuesday.
The latest model data keeps a few scattered showers throughout the morning hours Wednesday before we clear the clouds out and cool off for Thanksgiving.
Here's the First Alert to your Thanksgiving forecast. Keep in mind this will change throughout the weekend. Make sure you stay updated with us throughout the weekend and on that WMBF First Alert Weather App.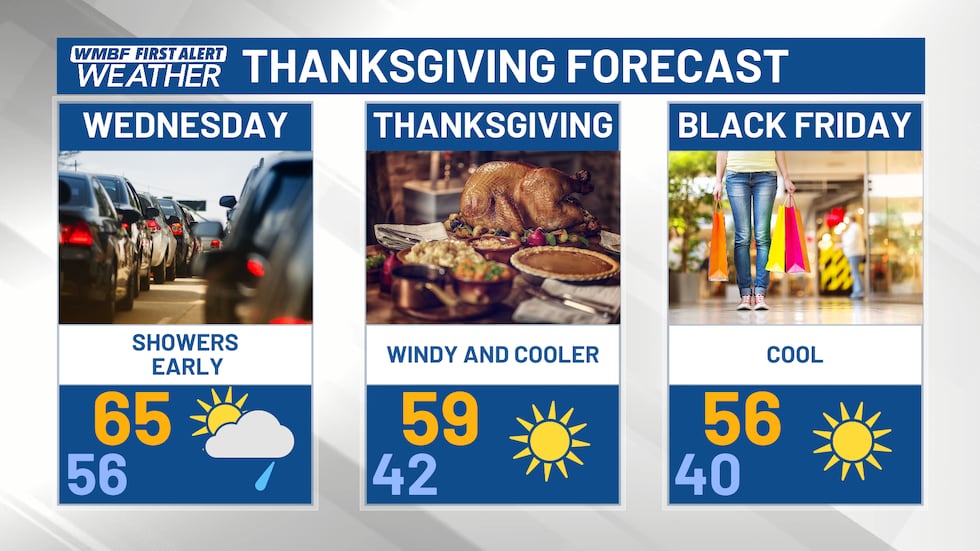 Copyright 2023 WMBF. All rights reserved.