FIRST ALERT: Dangerous heat this weekend
Published: Aug. 12, 2023 at 6:09 AM EDT
|
Updated: Aug. 12, 2023 at 9:52 AM EDT
MYRTLE BEACH, SC (WMBF) - The combination of some of the highest temperatures so far this summer along with excessive humidity will make this the hottest weekend so far this summer. Dangerous heat is likely from Sunday through early next week.
TODAY
Morning temperatures in the 70s climb to 90 at the beaches and into the lower to middle 90s inland. As humidity starts to creep up, the heat index will reach as high as 100 to 105 from midday through the late afternoon. Despite the high humidity, drier air in the upper atmosphere will keep the forecast rain-free.
TONIGHT
Temperatures remain warm tonight with temperatures falling in the mid to upper 70s with partly cloudy skies. Also, the Perseid Meteor Shower peaks this weekend and everything looks to be lining up for a good view. The moon will be near the new phase so the night sky will be dark and skies will be clear. The best time to view is from late Saturday night through the pre-dawn hours of Sunday. Plus, they're easy to see - find a dark spot and look up!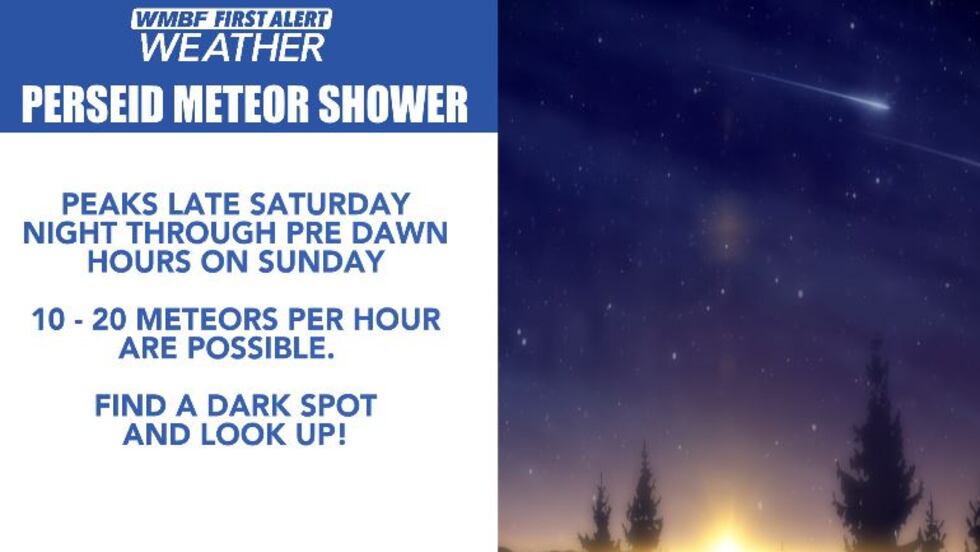 TOMORROW
The heat turns brutal by Sunday as actual temperatures reach some of the highest levels this summer. Temperatures along the Grand Strand will climb into the lower to middle 90s. Inland areas will reach into the upper 90s with a few locations getting close to 100. The oppressive heat will be met with excessive humidity to send the heat index into the danger category. EXCESSIVE HEAT WARNINGS may eventually be need as the heat index may surpass 110° at times.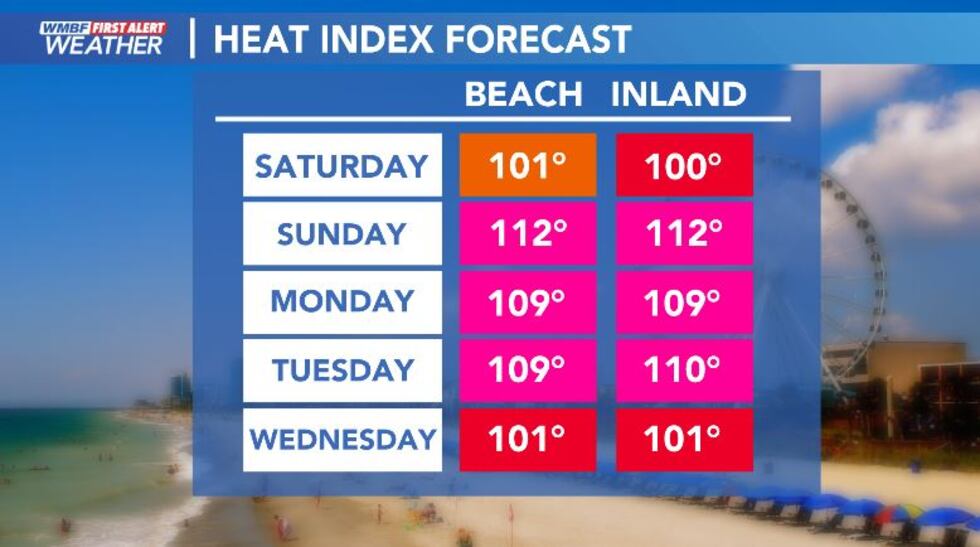 Copyright 2023 WMBF. All rights reserved.