FIRST ALERT: NOAA adding more saildrones to its fleet to intercept hurricanes
Published: Aug. 2, 2023 at 5:00 PM EDT
|
Updated: Aug. 2, 2023 at 6:47 PM EDT
MYRTLE BEACH, S.C. (WMBF) - This year, NOAA is nearly doubling its drone fleet to help when it comes to forecasting hurricanes.
HURRICANE FORECASTING
Forecasting hurricanes has come a very long way in recent decades, but there is still much to learn about how these storms form and more importantly, what makes some hurricanes rapidly intensify into major hurricanes.
Matt Womble, the senior director for ocean data program at Saildrone, explained how saildrones will help meteorologists understand this rapid intensification.
"If you're a resident of the Gulf Coast or resident of any coast, right now in hurricane season you're liable to one night of listening to your local meteorologist. which we'll tell you there's a Category 1 storm out there and you're still looking to figure out where it's going to go and what the strength will be. Then the next morning, there will be a definitive direction that it's going to be a Category 3, Category 4 hurricane making landfall in 48 to 72 hrs. That level of change or level difference makes a big impact that people will respond," said Womble.
WHAT ARE THEY?
The saildrone is a 23-foot-long unmanned vessel with a 15-foot sail. Attached to these drones are meteorological instruments that measure ocean temperature, air temperature, humidity, air pressure, ocean currents, wave height, salinity and even a camera that live streams video of the storm.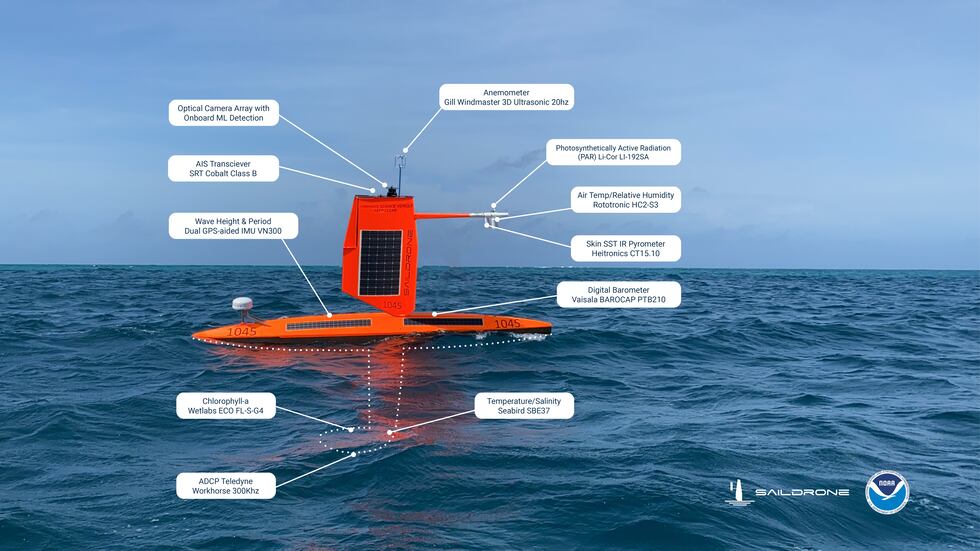 "It's one thing for someone to hear about Category 4, it's another thing to see a video stream of what that looks like 500 miles off in the Atlantic Coast and say, 'Wow that doesn't look like something I wanna find myself in,' and there a good social science aspect in what we're ordered to contribute to," Womble said.
WHAT WE'VE LEARNED SO FAR
This will be Saildrone's third year partnering with NOAA during hurricane season, and so far, they've had successful missions. They intercepted two hurricanes: Category 4 Hurricane Sam in 2021 and Category 4 Hurricane Fiona in 2022. Womble said they made new discoveries with the data they got back.
"On our intercept with Hurricane Sam in 2021 we detected a sea surface temperature rise moving over the area of the ocean. The expectation is seeing the sea surface temperature decrease and contributing to the surface temperature was how salty the water was and at that time we were noticing the fresh layer of water in the ocean. One of the many discoveries from our saildrones throughout these hurricane missions in an effort to approve forecast," Womble explained.
With these discoveries being made, more saildrones are being added to NOAA's fleet.
With more drones, they are going to start pairing drones together in an effort to get multiple vehicles into one storm to measure the different quadrants of each storm.
Womble said he hopes more saildrones mean being able to intercept more storms.
Copyright 2023 WMBF. All rights reserved.