Man arrested in 18-year-old's murder after body found in bonfire pit off Arizona highway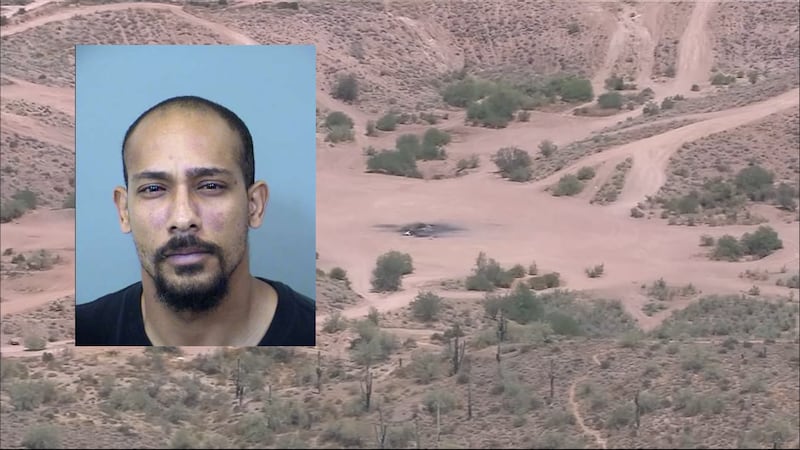 Published: Jul. 6, 2023 at 9:04 PM EDT
APACHE JUNCTION, Ariz. (KPHO/Gray News) — Authorities in Arizona made an arrest in the gruesome murder of a teen visiting from Nebraska in June.
The Maricopa County Sheriff's Office arrested 37-year-old Anthonie Ruinard on Wednesday.
Ruinard faces murder charges and several other charges stemming from the homicide of 18-year-old Parker League. His bond is set at $2 million.
Authorities say League was visiting friends in Arizona after graduating from a Nebraska high school. He was supposed to fly back to Nebraska on June 12, but his family couldn't get ahold of him. League's family reported him missing on June 14.
League's family told police they also looked at his bank statements and noticed somebody was using his debit and credit cards at several stores and restaurants. Deputies say surveillance video showed found Ruinard was using the cards.
According to court documents, League was dropped off at a club in Phoenix just after midnight on June 11. About two and a half hours later, Ruinard and his girlfriend arrived at the same club.
Officials say the three of them left the club around 3:45 a.m. together.
Around 4:30 a.m., Ruinard and League are seen on surveillance video pulling into a gas station parking lot. The pair go inside, buy some items and leave together in a Dodge Challenger. This is the last time Parker was seen alive, officials say.
Later that day, just before 9 p.m., Ruinard tried to use League's two credit cards to buy a rifle scope at Walmart but was denied. The sheriff's office said they believe League was already dead by this time.
On June 12, around 7 a.m., deputies uncovered League's body in a burn pile in an area known as "The Pit" in the off-highway vehicle area of BullDog Canyon. Investigators said his head and hands were cut off and were next to his legs. Authorities say the body was burned beyond recognition, and detectives had to use dental records for identification.
According to the medical examiner's office, League was stabbed multiple times in the back.
Court documents stated that Ruinard's house was also searched as part of the investigation on June 22. Detectives confiscated about 2 pounds of cocaine and about 1 pound 8 ounces of cocaine base.
Detectives also found Ruinard's Challenger, where they said a blood spot the size of a basketball was found inside the trunk. It was a match to League's blood, court paperwork said.
During the search, detectives noticed a section of carpet was missing from the bedroom floor. Ruinard and his wife told detectives the section was removed because they were building an additional room in the bedroom.
A Tesla Model X was also searched and deputies found a laptop bag with four 1-gram baggies of cocaine and a rifle, which Ruinard wasn't allowed to have as he's a prohibited possessor.
Court records state Ruinard told detectives League sold him his debit cards for $500, and he threw them away after using them. Ruinard also claimed League tried to sell him a Nissan sedan for $1,500, but he couldn't buy it since he didn't have that much cash.
Ruinard admitted to using cocaine and marijuana before meeting up with League on June 11, which "may have blurred his memory."
Ruinard claims after he and League left the Chandler-area Arco, he dropped League off at a nearby business, but there was no surveillance video to back up his story. However, detectives said he used his gate code for his community shortly after he left the Arco. Despite multiple searches, it's unclear where League was killed.
There also isn't a motive stated yet in the court paperwork.
Ruinard was booked into jail on charges of first-degree degree murder, possessing narcotic drugs, having equipment and chemicals to make narcotics, one count of theft of a credit card, one count of fraudulent use of a credit card, two counts of possessing a weapon by a prohibited possessor and one count of concealing a body.
Copyright 2023 KTVK/KPHO via Gray Media Group, Inc. All rights reserved.