FIRST ALERT: Warm front brings back muggy air, rain chances
Published: Jun. 10, 2023 at 6:05 AM EDT
|
Updated: Jun. 11, 2023 at 10:05 AM EDT
MYRTLE BEACH, SC (WMBF) - It's finally feeling like Summer this weekend!
TODAY
Today is where we are going to start to see the humidity and the summer like feel start to creep in. With the increasing humidity it is going to feel quite muggy outdoors. This is all thanks to a warm front moving north along the Pee Dee. This will bring a chances for showers across our area, just a 20% chance for the Grand Strand and 30% for our inland areas, so we will be seeing some rain but by no means will be a wash out. So if you are planning on heading out on all Sunday no need to cancel any plans especially if you are heading to CCMF just be prepared for a chance for those showers.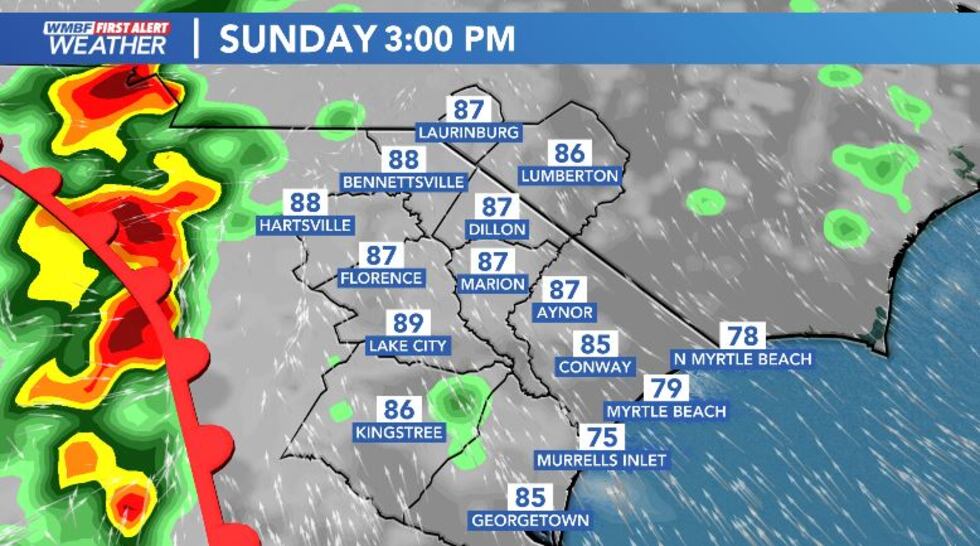 TOMORROW
Monday humidity will also be high and that is when we are going to see some pop up thunderstorms possible, these are the occasional summertime thunderstorms that we are used to seeing. Shower chances are at 60% and it will not be a complete wash out through the day however rain could be heavier at times.
NEXT WEEK
Tuesday is looking dry and as we start to head into the ending of next week we are going to be looking at some more chances for rain with temperatures in the low to mid 80s along the grand strand and inland throughout the week you can see temperatures in the upper 80s into the low 90s.
A second cold front will arrive on Wednesday, this will bring another round of showers and storms. Models are hinting that this system will stall off the coastline, which will keep a threat for isolated storms for the rest of the work week. Temperatures are going to continue to stay in the 80s and 90s across our region.
Copyright 2023 WMBF. All rights reserved.