FIRST ALERT: Warm and muggy for Mother's Day with chances for afternoon storms
Published: May. 13, 2023 at 6:10 AM EDT
|
Updated: May. 14, 2023 at 9:41 AM EDT
MYRTLE BEACH, SC (WMBF) - What better way of spending Mother Day's weekend than being at the beach. Those warm temperatures will trigger a few stray afternoon storms
MOTHER"S DAY FORECAST
Sunday will once again be another warm day. The humidity will once again be higher on Sunday, resulting in the chance of a stray shower or storm across the region through the afternoon and evening. Rain chances are at 30% for the day. So you won't have to worry about rain if you take your mom out to lunch. Sunday will be an early taste of summer with temperatures near 80° on the beaches and middle to upper 80s inland.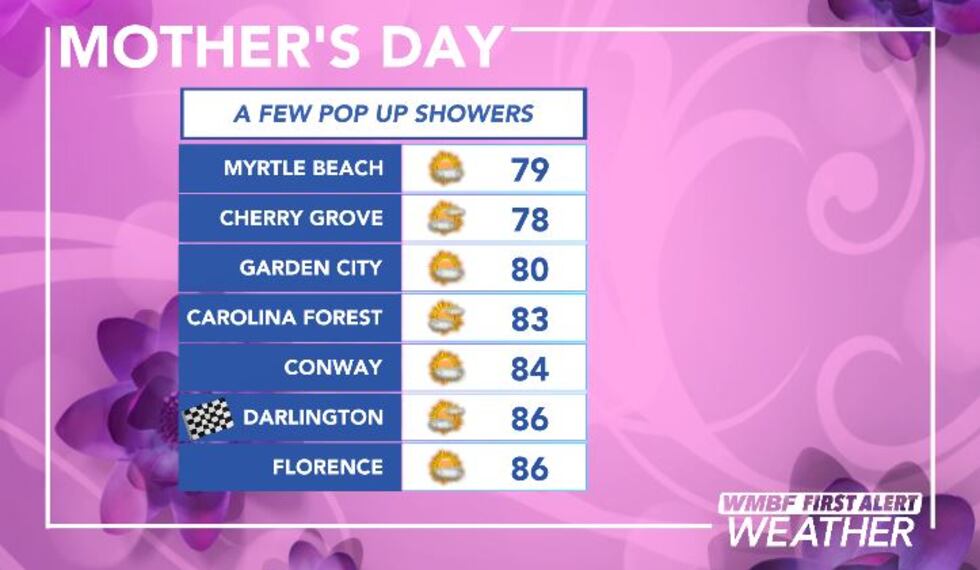 And for those heading to Darlington, prepare for a warm weekend! Highs will reach the mid-upper 80s each day with a 30% chance of a shower/storm on Sunday for the Goodyear 400. So far, the latest models show the better chances of rain closer to the beach!
TOMORROW
We start the week with cooler temperatures thanks to that Mother's Day cold front. Temperatures will be in the 60s Monday morning with partly cloudy skies and we'll eventually warm up in the low 70s. Rain chances remain low, however that cold front has stalled to our south and it will produce enough moisture an isolated shower.
WEEK AHEAD
Another weak cold front will pass through our area on Tuesday, this will bring a broken line of showers and storms Tuesday afternoon. This will not bring any severe weather but it will keep our temperatures cooler in the low 70s. Once we get into midweek, a high pressure system builds and this will bring back warm temperatures in the upper 70s in the Grand Strand and mid 80s inland.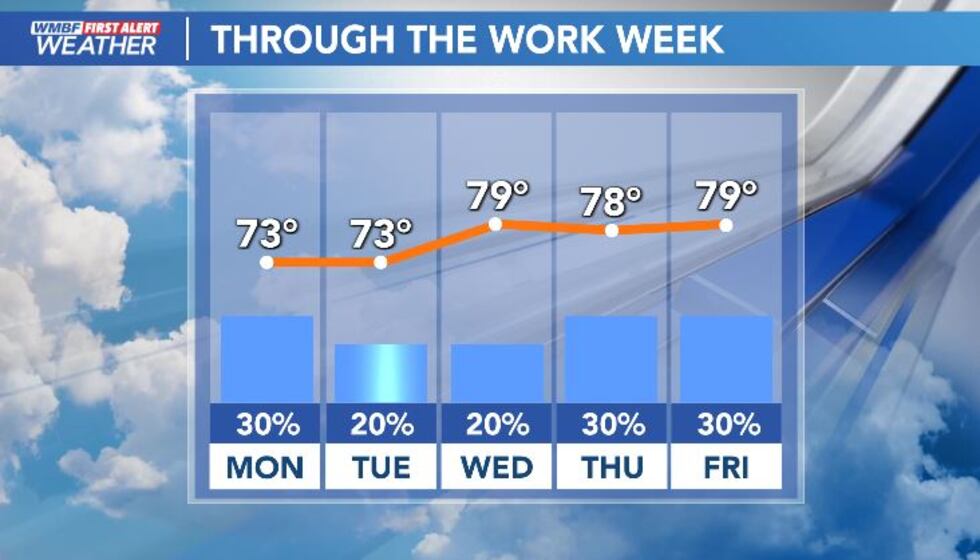 Copyright 2023 WMBF. All rights reserved.