FIRST ALERT: Summer heat returning this week
Published: May. 7, 2023 at 5:50 AM EDT
|
Updated: May. 7, 2023 at 9:48 AM EDT
MYRTLE BEACH, SC (WMBF) - Get ready for a beautiful Sunday. Temperatures are going to continue to rise during the work week.
TODAY
For folks heading off to church, we'll have a beautiful start to the day. Temperatures are in the 60s with plenty of sunshine. We'll continue to warm up this afternoon with highs reaching in the upper 70s along the beaches and low 80s inland. Rain chances are going to remain very low, so it will be great day to be outside and soak up the sunshine.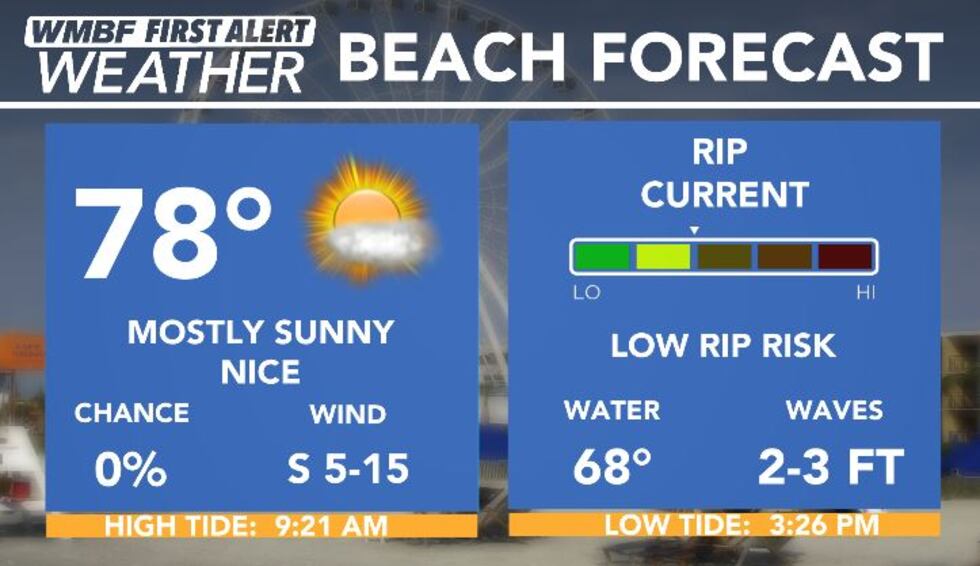 TONIGHT
The weather continues to stay quiet tonight. Temperatures are going to drop in the mid 60s along the Grand Strand and low 60s inland.
SUMMER HEAT RETURNING
Temperatures are going to be on the rise this week. A high pressure system will develop down towards our south. This will funnel in warm and moist air across the Carolinas. Temperatures are going to warm up in the low 80s in the Grand Strand and upper 80s inland on Monday with partly cloudy skies. Tuesday is going to be the warmest day of the week with highs in the mid 80s along the beaches and low 90s across the Pee Dee. Not only is it going to be warm, it's going to be slightly more humid across our area.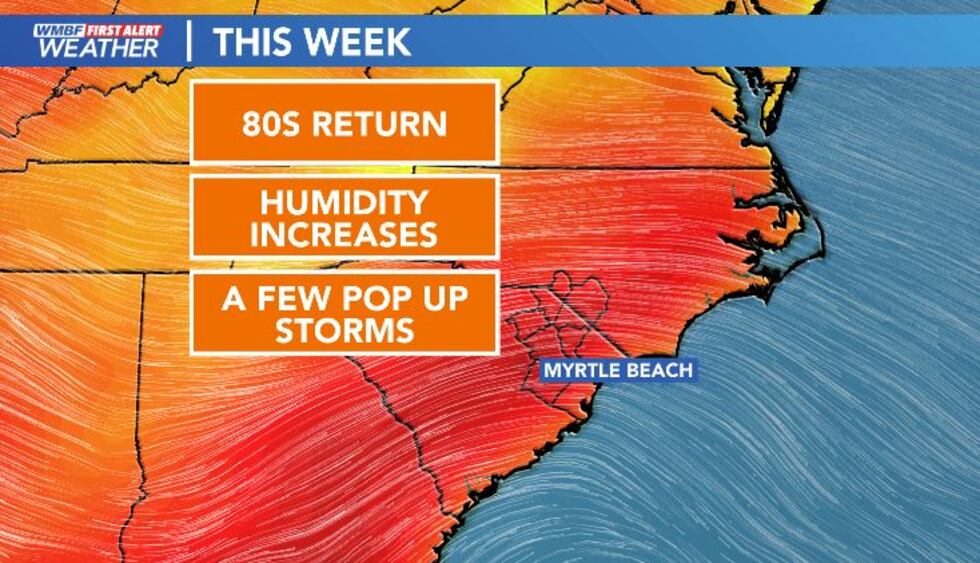 With the combination of the heat and humidity this will continue our chances for pop up showers and thunderstorms in the forecast for most of the work week. A weak cold front will pass through the area Tuesday night, which will cool temperatures down in the low 80s by midweek.
Copyright 2023 WMBF. All rights reserved.