Coastal Carolina softball outhit by App State in regular-season finale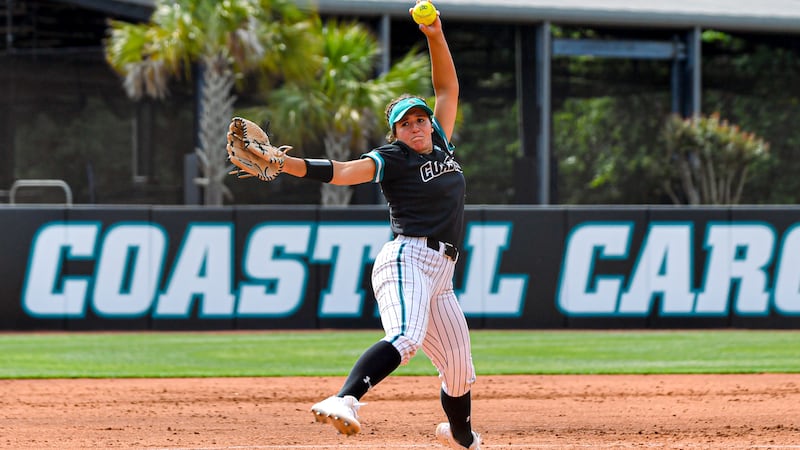 Published: May. 5, 2023 at 5:17 PM EDT
BOONE, N.C. – The Coastal Carolina softball team (35-19, 11-13 Sun Belt) had its Sun Belt Conference series sweep hopes crushed by the Appalachian State Mountaineers (23-28, 4-18 Sun Belt) on Friday in Boone, N.C.
The Mountaineers out-hit the Chants 12-3 on the day to secure the 7-1 win.
App State came back with a vengeance in game three of the series, tallying four runs in the bottom of the third inning. The Mountaineers loaded the bases off two singles and a walk before Emily Parrot crushed a two-run double off the back of the left-field wall to make the score 2-0.
The runs kept coming for the Mountaineers in the bottom of the third inning when Mary Price Barnes drilled an RBI single and Taylor Thorpe struck a sacrifice fly deep into right field to extend the home team's lead to 4-0.
The Chants got on the scoreboard in the top of the fourth inning when Iyanla De Jesus hammered her second home run of the weekend over the left-center field wall to put CCU back in the game at 4-1.
The Mountaineers scored one more run in the bottom of the fourth inning when Parrot recorded her second hit of the game on an RBI single to first base to put App State up 5-1.
In the bottom of the fifth inning, App State added two more runs to its total when a fielder's choice and a single to left field each drove in an RBI to push the home team ahead at 7-1.
CCU was not able to get anything going for the remainder of the game as App State closed out the game with back-to-back 1-2-3 innings to secure the victory.
Raelee Brabham fell to 12-11 with the loss, giving up four runs off four hits while walking one hitter in her 2.1 innings of work in the circle.
The Chanticleers will be in action next week as they head to the 2023 Sun Belt Conference Softball Championship Tournament in Lafayette, La., May 10-13.
Copyright 2023 WMBF. All rights reserved.