FIRST ALERT: Severe weather threat has ended
Published: Apr. 28, 2023 at 4:05 AM EDT
|
Updated: Apr. 30, 2023 at 6:23 PM EDT
MYRTLE BEACH, SC (WMBF) - We're done with the showers and storms for the night. Get ready for a quiet week of weather.
TONIGHT
5PM UPDATE
The low pressure system that brought several round of showers and storms has exited the area. The severe threat is now over, however a few stray showers will linger early this evening but they will end by 8pm. The clouds are going to gradually clear out tonight, with temperature dropping down in the low 50s across the Grand Strand
SUNNY AND BREEZY MONDAY
We'll start off the week on a dry and quiet note. For folks heading off to work or dropping the kids off at school, you'll need a light jacket. Temperatures are going to be 50s to start off the day, however it's going to feel a bit cooler thanks to the wind. It's going to be a breezy Monday afternoon with winds gusting between 15 to 25 mph. So even though our highs are going to be in the low 70s, it's going to feel a little cooler.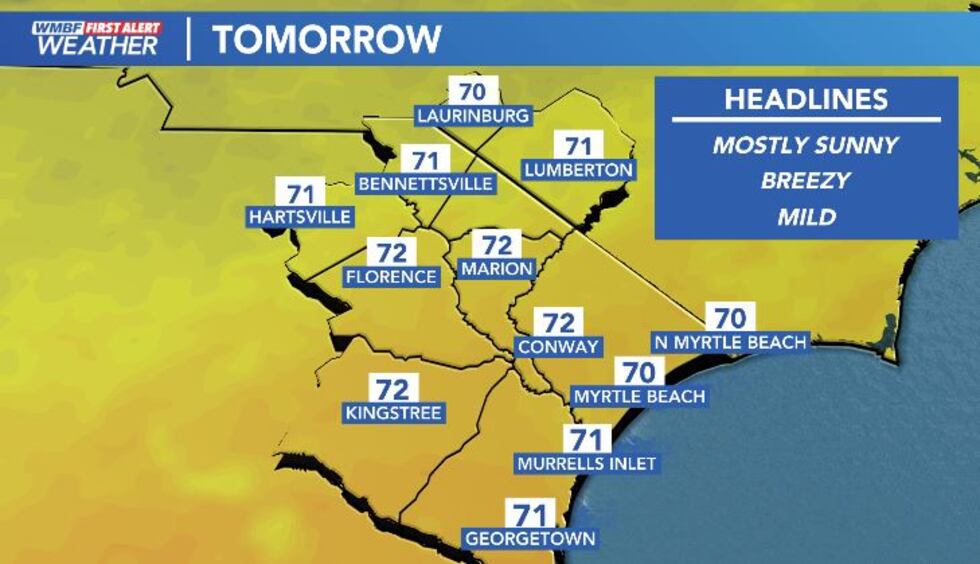 STAYING QUIET FOR THE REST OF WEEK
A high pressure system is going to keep the weather dry and quiet. Rain chance are going to remain very low. Our next rain chance arrive by the end of the work week and through the weekend.
Copyright 2023 WMBF. All rights reserved.