Riverbanks Zoo & Garden welcomes two rare blue-billed curassows hatchlings
there are only an estimated population of 150-700 individuals of the rare bird.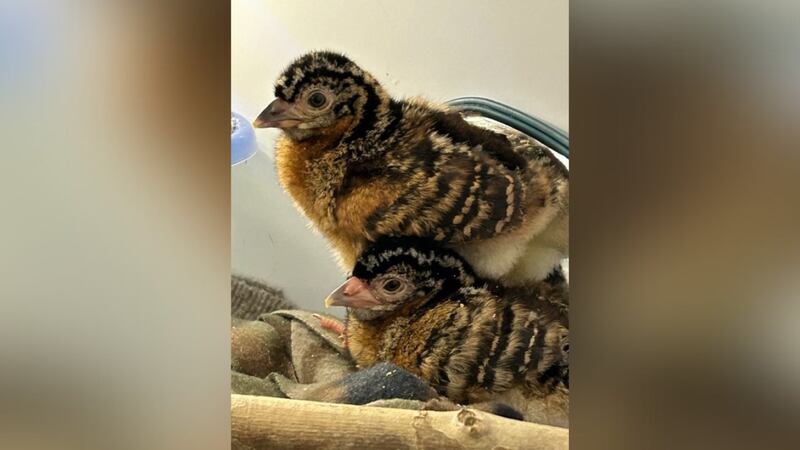 Published: Apr. 20, 2023 at 11:04 AM EDT
COLUMBIA, S.C. (WIS) - The Riverbanks Zoo & Garden proudly announces the first hatchlings of two rare blue-billed curassows.
A press release read that blue-billed curassows are found only in a few tropical forests of Colombia, South America. The species is listed as endangered by the International Union for Conservation of Nature (IUCN), with an estimated population of 150–700 individuals.
The hatchlings at Riverbanks highlight a major win for both genetic diversity for those in human care and awareness of this species at risk said officials.
Officials said the milestone comes after the zoo received the Plume Award from the Association of Zoos and Aquariums Avian Scientific Advisory Group AZA).
Leadership from the AZA said Riverbanks has served as a leader in aviculture among the AZA community, and the achievement underscores the Zoo's outstanding work in bird care and conservation.
Riverbanks' Curator of Birds Colleen Lynch says, "Curassow chicks are precocial—they can fly, perch, eat and drink on their own on day zero. But they do need protection and brooding from their parents. Carl and Claudia are first-time parents and failed to incubate their eggs." Luckily, the bird team at Riverbanks has substantial expertise in artificial incubation. "That's when the keepers stepped in to care for the eggs in the Bird Conservation Center. We hope to reunite our growing Curassow clan as soon as possible," continues Lynch.
Notice a spelling or grammar error in this article? Click or tap here to report it. Please include the article's headline.
Stay up to date with WIS News 10. Get the app from the Apple App Store or Google Play Store and Stream us on Roku, YouTube, Amazon Fire, or Apple TV.
Copyright 2023 WIS. All rights reserved.