7th annual Giving Teal Tuesday supports Carolina Coastal students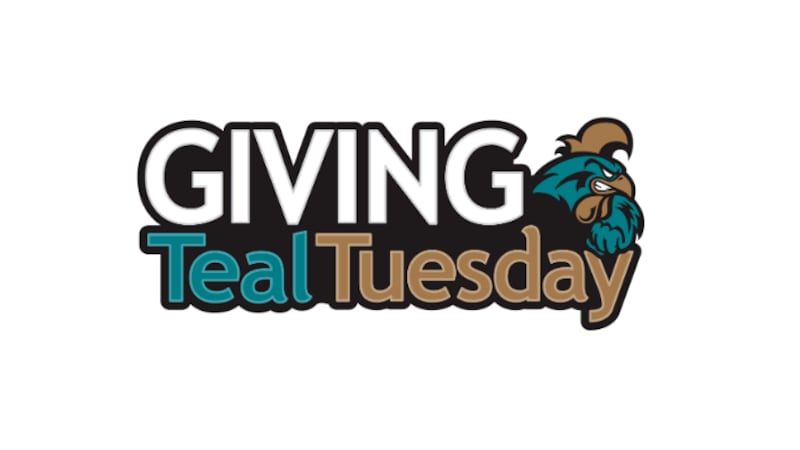 Published: Apr. 17, 2023 at 1:34 PM EDT
HORRY COUNTY, S.C. (WMBF) - The seventh annual Giving Teal Tuesday is April 18.
One day a year, for 24 hours, Coastal Carolina University encourages all alumni, faculty, staff, students, parents, and friends to make a donation during Coastal Carolina University's seventh annual Giving Teal Tuesday on April 18.
Donations of any amount received during this 24-hour period will support student scholarships, cultivate academic and leadership programs, impact Chanticleer Athletics, and more.
To make a gift during Giving Teal Tuesday, visit givingtealtuesday.com.
Donations can be made to one or more of the following 11 areas:
Giving Teal Tuesday General Fund

Student Engagement Fund

College of Graduate and Continuing Studies

HTC Honors College

Conway Medical Center College of Health and Human Performance

Spadoni College of Education and Social Sciences

Thomas W. and Robin W. Edwards College of Humanities and Fine Arts

E. Craig Wall Sr. College of Business Administration

Gupta College of Science

CCU Alumni Association

Chanticleer Athletic Foundation
The CCU Alumni Association will host a Giving Teal Tuesday alumni TEALgate on the Atheneum Hall patio from 4-6 p.m., prior to CCU's baseball game. The event will feature food, live music, raffle prizes, and a special appearance by Tim Beck, the Chanticleers' new head football coach. The TEALgate is free to CCU alumni and their guests. To register, click here.
"Giving Teal Tuesday has become a CCU tradition because it allows our supporters to give back in a meaningful way to the part of Coastal that means the most to them," said Diane Sanders, vice president for advancement and alumni engagement. "With gifts supporting a range of academic disciplines, athletics, and the overall growth of the University, every member of Teal Nation can join together to make a significant impact.
"GTT is the perfect day to show your support for CCU's deserving students. Our goal this year is to exceed 1,000 donations. Every gift, no matter the amount, counts and is greatly appreciated! Let's come together and make a difference!"
For more information, call 843-349-2414.
Copyright 2023 WMBF. All rights reserved.