Response protocol, methods prepare Horry County Schools for emergency situations
Published: Apr. 12, 2023 at 8:56 AM EDT
HORRY COUNTY, S.C. (WMBF) - From fake bomb threats to swatting calls, recent school incidents have some Horry County parents concerned about their kid's safety, so it's important to know how the school district is keeping your kids safe.
It's easy to panic when you hear the word "lockdown;" however, in Horry County, not every incident calls for that kind of response.
Horry County School District follows the Standard Response Protocol which is a list of five different response methods to emergencies.
Those methods are Hold, Secure, Lockdown, Evacuate and Shelter.
The school district said schools will often call for a "hold" or "secure" status as long as there's not a threat directly to the school.
HOLD
Hallways are cleared

Students and staff asked to remain in room or office

Close and lock door

Classroom activities continue as usual
The district said medical emergencies in the hallway or something as simple as a spill could send schools into a "hold" status.
SECURE
Everyone comes inside

Outside doors are locked

Increased awareness

Classroom activities continue as usual
An example of when a school may go into "secure" status is when police are investigating a crime near the school.
LOCKDOWN
Doors are locked

Lights are cut off

Kids out of sight
The school district said "lockdown" status is usually when there is a direct threat to the school.
EVACUATE
Leave items behind and report to a specified location

Bring phone if possible

Account for students and staff

Report injuries or problems
SHELTER
For a hazard using a safety strategy

Drop, cover and hold

Get to high ground

Evacuate to shelter area
David Beaty, Horry County School District's safety and security coordinator said they have these different methods to prevent confusion.
"You get into these things like hard lockdown, soft lockdown, lockdown respond, and after a while it just becomes confusing. The Standard Response Protocol is intuitive and that's the beauty of the program is its simplicity," said Beaty.
Beaty said it's up to the school principal to let parents know if the school's safety status changes.
It's also easier than ever for Horry County Schools staff to know what to do in emergency situations because they all have the Standard Response Protocol on the back of their lanyards.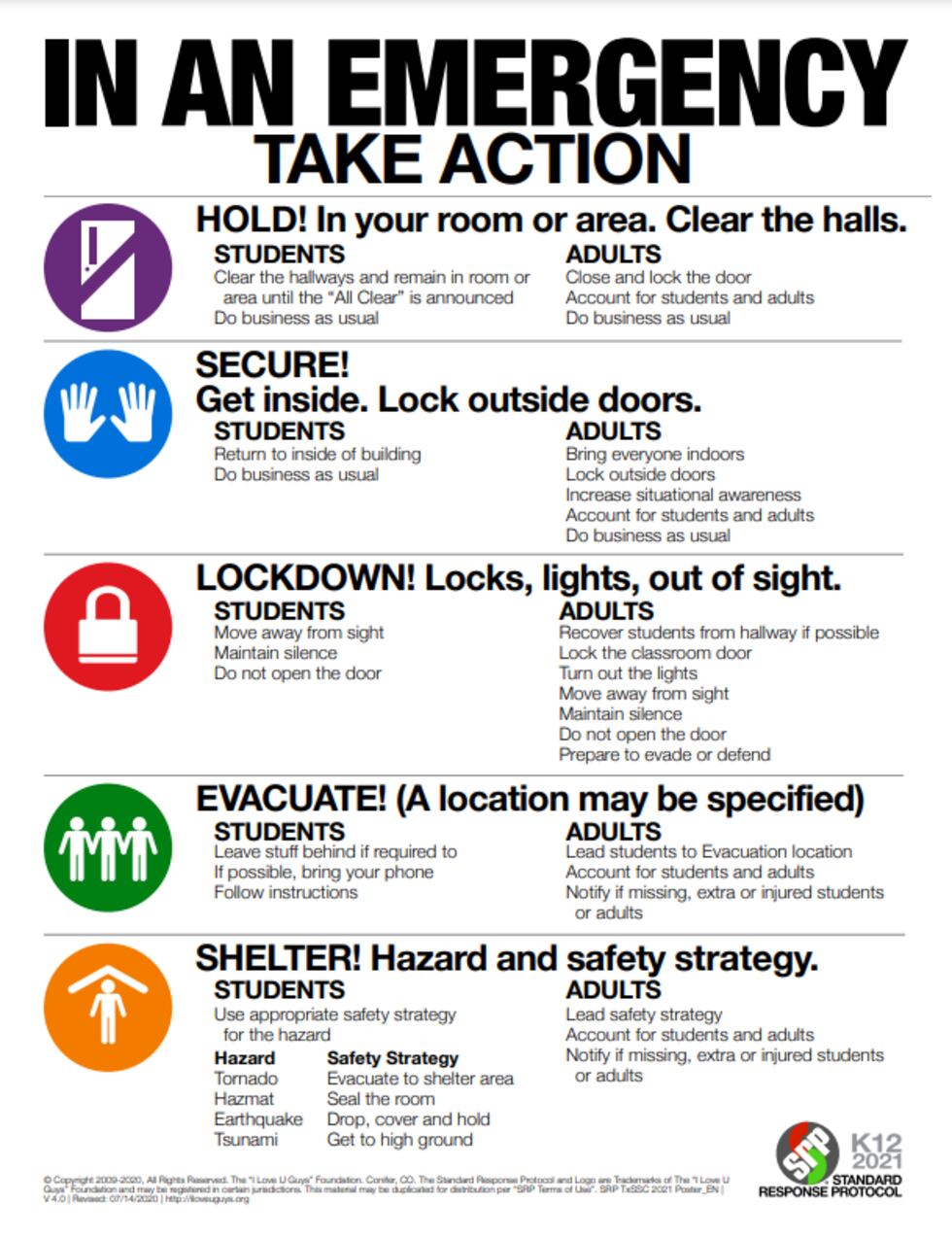 Copyright 2023 WMBF. All rights reserved.