Horry County rescue crews, bystander honored for saving man in cardiac arrest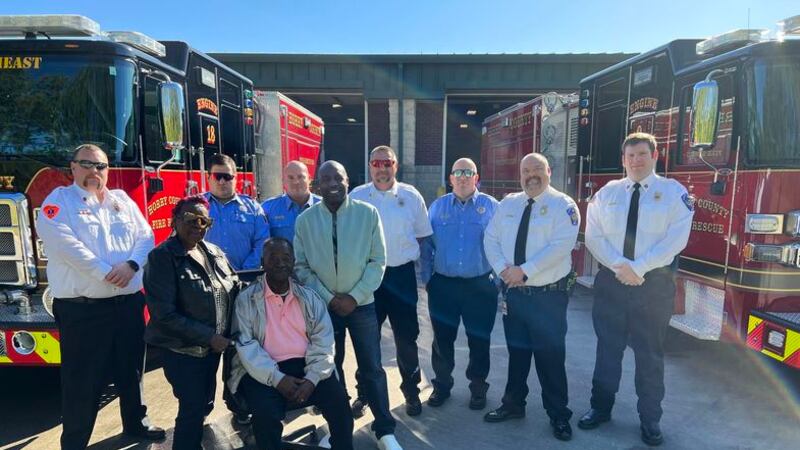 Published: Apr. 12, 2023 at 9:26 AM EDT
HORRY COUNTY, S.C. (WMBF) - Horry County Fire Rescue honored the bystander and crew members on Tuesday credited with saving a man's life after he suddenly suffered a cardiac event.
According to HCFR, on Feb. 13, while paying for gas at a convenience store near Highway 57 and E. Highway 9 in Little River, Thomas Jordan suffered a cardiac event, collapsing in the store.
A store employee Andre Stevenson witnessed the collapse and immediately hopped the store's counter, getting to Jordan as quickly as possible while calling Horry County 911.
Following the instructions given by the Horry County 911 telecommunicators, Stevenson started chest compressions on Jordan while HCFR crews headed to the Little River store.
HCFR crews from Station 18 and Station 2 arrived and took over chest compressions on Jordan, who was in cardiac arrest.
"He was quickly transported to the hospital, and fought his way back to having a pulse," HCFR said in a statement. "Though the chances of regaining a pulse in this situation are low, Stevenson and the responding HCFR crews worked well together to bring Jordan back to life."
On Tuesday morning, HCFR crews received Phoenix Life-Saving Awards and Stevenson got to meet a recovering Jordan and his wife Ethyl, and many of the involved personnel.
Stevenson was presented with a Chief's Challenge Coin and certificate of appreciation.
The following HCFR crew members were honored by Assistant Chief Lawson and Captain Ammons from HCFR's Command Staff for helping save Jordan's life:
Lt. Bouleware
Firefighter/Paramedic Hartzog
Firefighter/EMT McGarva
Firefighter/EMT Bays
Firefighter/EMT Quinn
Firefighter/EMT Rabon
Copyright 2023 WMBF. All rights reserved.