FIRST ALERT: Easter morning showers begin to taper off by lunch time, with gradual afternoon clearing
Published: Apr. 9, 2023 at 6:10 AM EDT
|
Updated: Apr. 9, 2023 at 10:27 AM EDT
MYRTLE BEACH, SC (WMBF) - We're still tracking showers in the morning but there's no need to cancel your Easter plans. Rain showers will taper off by lunchtime.
TODAY
Easter Sunday will start off with lingering mist and drizzle and light rain that slowly tapers off through the day. The latest model data this morning keeps the rain chances along the Grand Strand around through at least the first half of the day. A few breaks in those showers should arrive by the afternoon plans on Sunday. We will still remain mostly cloudy this afternoon with highs in the lower 60s.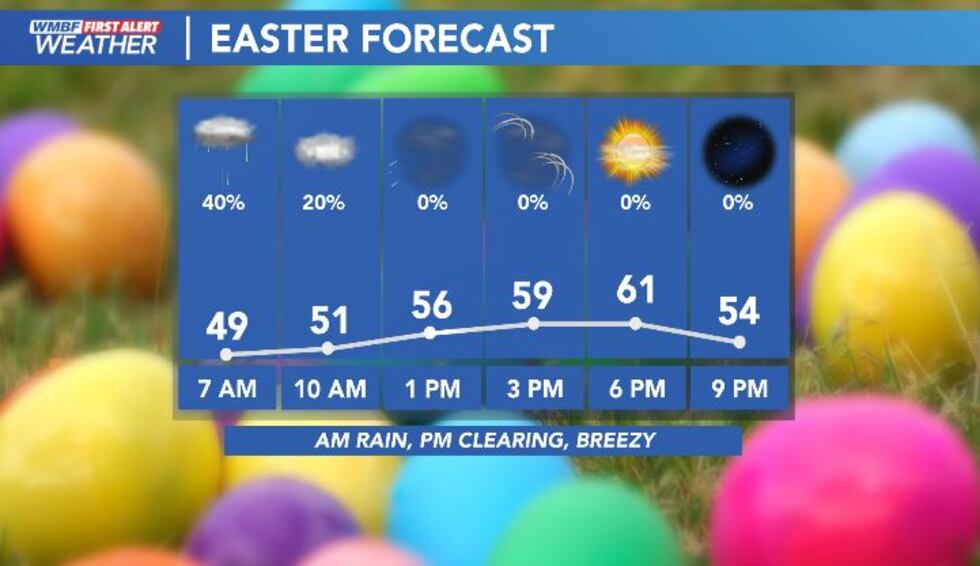 TONIGHT
Clouds are going to gradually clear out throughout the night. Northeast winds will continue to funnel in cooler air tonight with overnight lows dropping in the low 40s inland and upper 40s along the Grand Strand. Overall, a quiet but chilly night ahead.
BEAUTIFUL WEATHER AHEAD
We start off the work week on a beautiful note. Monday, we'll have mostly sunny skies with mild temperatures in the mid 60s across our area. Sunshine continues through Thursday with temperatures gradually increasing to the 70s and 80s by the end of the week. Our next rain chance won't be arriving till the end of the week!
Copyright 2023 WMBF. All rights reserved.