'We got him!': Upstate dog missing for nearly a month reunited with owners
Family has seen incredible outpouring from community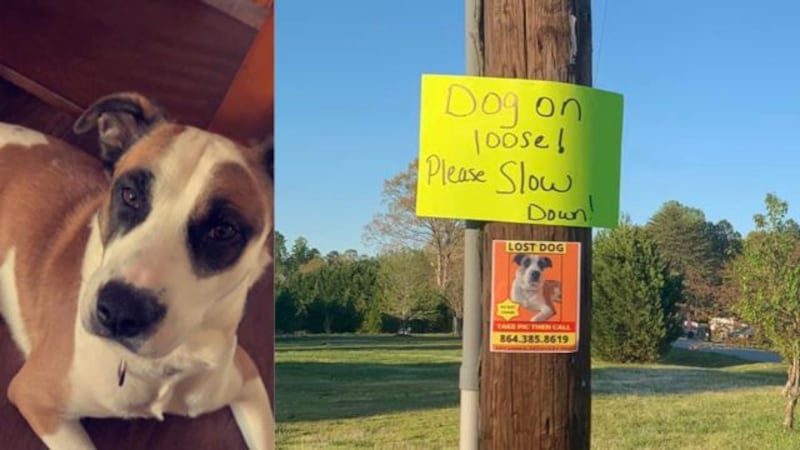 Published: Apr. 3, 2023 at 2:58 PM EDT
|
Updated: Apr. 8, 2023 at 1:45 PM EDT
FOUNTAIN INN, S.C. (FOX Carolina) - Bright orange flyers posted on phone poles and traffic signs in the Fountain Inn community helped find a missing dog named Anakin.
The Staffordshire terrier and husky mix, who has been skittish since he was rescued, escaped from a training facility near McKelvey Road on March 11, according to his family.
On Saturday, April 8, Anakin's owner, Ashley Raymond, said "We got him!"
Anakin has been sighted dozens of times throughout the last month but owners Mike and Ashley Raymond were not been able to capture him. The pup had visibly lost weight in pictures and videos recorded by people who spotted him - as recently as April 2.
"Anakin is suffering from survival mode in dogs," Ashley Raymond said. "He is incredibly fearful of humans right now and considers everyone predators, including his owners who he loves very much."
Strangers came together to search for Anakin, post flyers and build humane traps to try to catch him. Neighbors allowed the Raymonds to camp in their yards where Anakin was sighted.
"The community of Simpsonville and Fountain Inn have been wonderful and involved every minute, telling us of sightings and movements," Ramond said. "Strangers are coming out of nowhere helping us try to get him home."
A group of about 15 people met daily at a gas station to pass out flyers and spread the word.
"People stop us in the road to pray," Raymond said. "It's truly amazing how this town has transformed me."
The Raymonds offered a $1,500 reward for the safe capture of Anakin.
We are so glad Anakin is back home safe with his family!
Copyright 2023 WHNS. All rights reserved.