FIRST ALERT: Can weather affect your joint pain?
Published: Apr. 5, 2023 at 6:42 PM EDT
|
Updated: Apr. 5, 2023 at 7:07 PM EDT
MYRTLE BEACH, S.C. (WMBF) - During the springtime, we see plenty of changes in the weather that affect your health, especially when it comes to allergies.
But can the weather affect pain your body?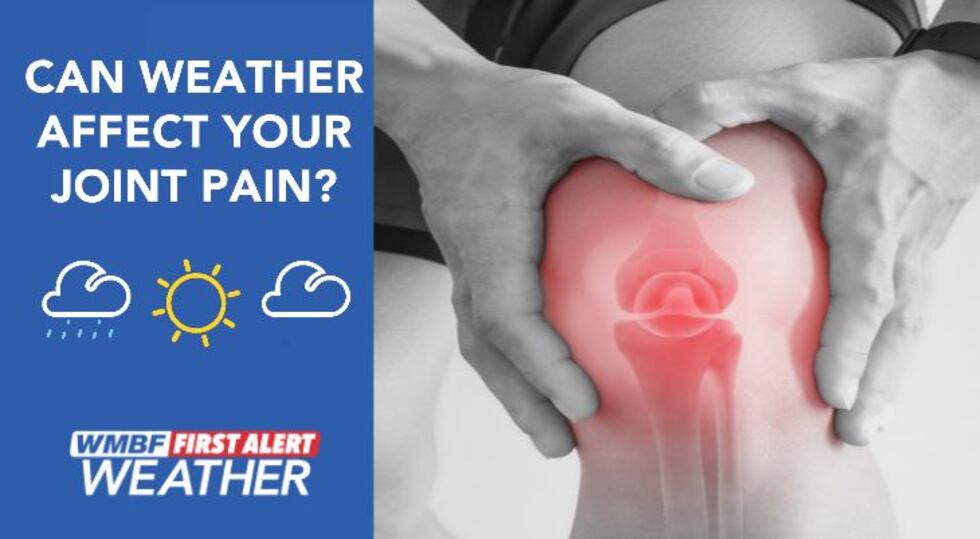 "My mom would tell you she knows more about the weather causing joint pain more than me and it's very non-specific. The agreement there is something is going on but I just think we don't know the exact pathway so you gotta treat it very individually," said Dr. Sean Nguyen with Tidelands Health.
Nguyen said there are a couple of reasons on why we feel pain when the weather changes.
"There are few ideas that have been thrown about in the different communities: scientific and medical community. Some of it is related to the pressure changes, where it's about to rain, some people think the barometric pressure that changes has an effect on how your joints expand and contract with the muscles. Some of that may be that sensitivity that some patients feel," Nguyen explained.
Another idea is that temperatures can affect your joint pain.
"Some temperatures, individuals are more sensitive than others. Like myself, I'm very sensitive to 60 degrees since I live in Myrtle Beach so I can't deal with the cold... and for some individuals you know they're sensitive to 5 to 10-degree change whether it's their knees, shoulders and bones ache because of that stiffness," Nguyen said.
Nguyen said it's hard to pinpoint the exact reason why some people feel pain when the weather changes. It's because everyone's body is different.
"The summers coming and you would think the pain would be less, and for some individuals, swelling happens and it's more prominent because their joints are swelling more from the heat, they're not moving, they're sitting... it's just different. Then the other spectrum of patients where, like I said, the cold is what bothered them or they say both temperatures bother them," Nguyen explained.
He said he's seen plenty of folks dealing with joint pain because of the changes in the weather. But there are things you can do to help prevent this.
"That's when I was looking at the triggers, in particular, if they know a particular rain front, they're more sensitive to like cold weather or more sensitive to the heat or winds, something that," Nguyen said. "One is to look at the triggers. And then two is to see what you can do. Some of it is if you're sensitive to the cold you can dress warmer, stay more active, stretching things like that. Other things is if it's an acute change, you were never sensitive to the cold and all of a sudden your joints are hurting from certain changes in the weather, talk to your doctor about it just to see if anything else is going on. Is it an underlying medical condition or is it a natural progression their body is?"
Staying active and stretching can help ease joint pain when the weather changes.
Copyright 2023 WMBF. All rights reserved.