66-year-old man identified as victim in Charleston Co. plane crash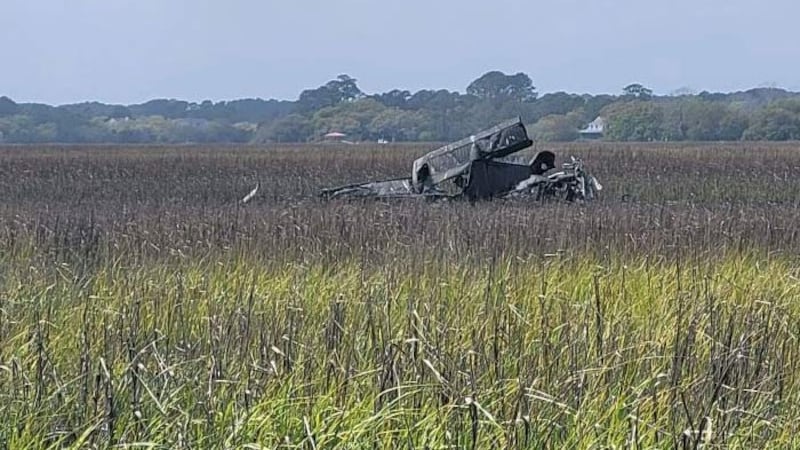 Published: Mar. 25, 2023 at 2:10 PM EDT
|
Updated: Mar. 27, 2023 at 7:16 AM EDT
CHARLESTON COUNTY, S.C. (WCSC) - The Charleston County Coroner's Office has identified a 66-year-old Maine man who died in a plane crash.
Andrew Patterson, from Cutler, Maine, was the pilot of the plane when it crashed into a marsh near the Stono River Saturday, Charleston County Coroner Bobbi Jo O'Neal said.
The Federal Aviation Administration is investigating what led to the Saturday afternoon plane crash.
Multiple agencies responded to the crash, which happened around 1 p.m.
It was a small plane that crash into a marsh area near the Stono River between James and Johns Islands, according to Charleston County Sheriff's Office spokesperson Andrew Knapp.
After confirming one person died in the crash, the St. Johns Fire District said they were working to get to a second "patient."
However, Knapp said in a Saturday night news release there is "only one confirmed victim." The fire district also later stated in a Facebook post there was only one victim after initial reports indicated there were possibly two people on board.
Deputies initially responded to the Sol Legare Boat Landing after several boaters and onlookers watched the plane crash into pluff mud.
"The plane came down on an angle, and we thought he was going to pull up," Clifford Worilds, who saw the crash, said. "We saw the smoke, and he kept down and went into the marsh. We rushed over to see if we could help out, but he was too far into the marsh."
The sheriff's office stayed surveying the area, which is only accessible by boat, until 6 p.m. That is when most deputies cleared, and the boat landing was reopened.
Copyright 2023 WCSC. All rights reserved.