Coastal softball drops series finale to James Madison 1-0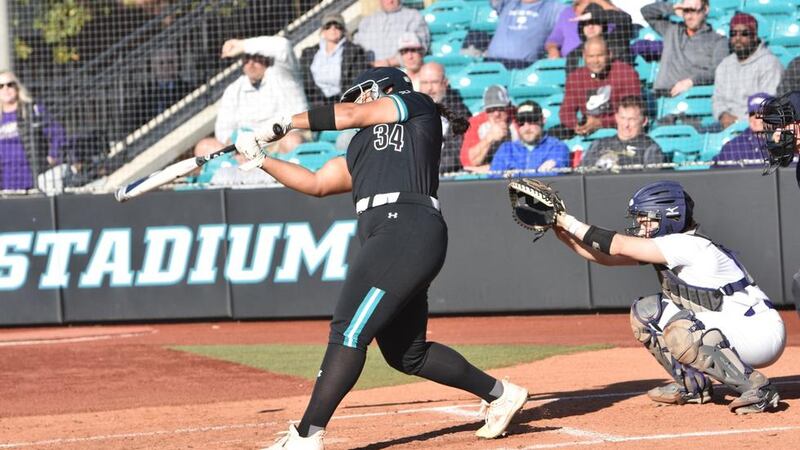 Published: Mar. 19, 2023 at 4:05 PM EDT
CONWAY, S.C. – The Coastal Carolina Softball team (24-6) dropped its final game of the three-game series to James Madison 1-0 on Sunday afternoon.
It was a pitching battle between CCU's Iyanla De Jesus and JMU's Alissa Humphrey during the first five innings, with De Jesus recording three strikeouts and pitching two 1-2-3 innings while Humphrey threw a perfect five innings of work in the circle.
The first hit of the game came in the top of the sixth inning when JMU's Jasmine Hall struck a single to left field, which was followed by a hit-by-pitch to put two runners on base. De Jesus regained focus to strike out the final hitter to send CCU to the plate with the score level at 0-0.
Coastal got a hit of its own in the bottom of the sixth inning when Keirstin Roose crushed a leadoff single to left field to get the Chants going. Freshman Livi Payne then stepped up to the plate and hit a sacrifice bunt which advanced Roose to third base. However, the Dukes held firm and secured the next two outs to keep the score tied at 0-0.
JMU's Kate Carrier kicked off the top of the seventh inning with a leadoff single that bounced over De Jesus's head to reach first base and then advanced to second on a groundout on the following play. Back-to-back wild pitches then allowed Carrier to score from third to give JMU a 1-0 lead.
CCU sought a comeback in the bottom of the seventh inning when De Jesus smashed a single to left field and Maddie Jennings walked to put runners on first and second base, only to see the Dukes remain calm to strike out the last hitter to secure a 1-0 win.
De Jesus fell to 3-2 with the loss, recording five strikeouts while giving up one run in 7.0 innings of work in the circle.
The Chanticleers will head to Charleston, S.C., to face Charleston Southern on Tuesday at 2 p.m. ET.
Copyright 2023 WMBF. All rights reserved.