FIRST ALERT: Get ready for a rainy Sunday
Published: Mar. 12, 2023 at 6:01 AM EST
|
Updated: Mar. 12, 2023 at 9:49 AM EDT
MYRTLE BEACH, SC (WMBF) - We are starting Daylight Saving Time on a wet note.
TODAY
A low pressure system will push through the Carolinas today which will provide us with a rainy Sunday. Showers will begin to enter the Pee Dee in the morning hours and eventually pushing through the Grand Strand by Late morning. Showers will continue to stick this afternoon and it will wrap up after shortly after dinner time. We're expecting a little over half of an inch of rainfall today.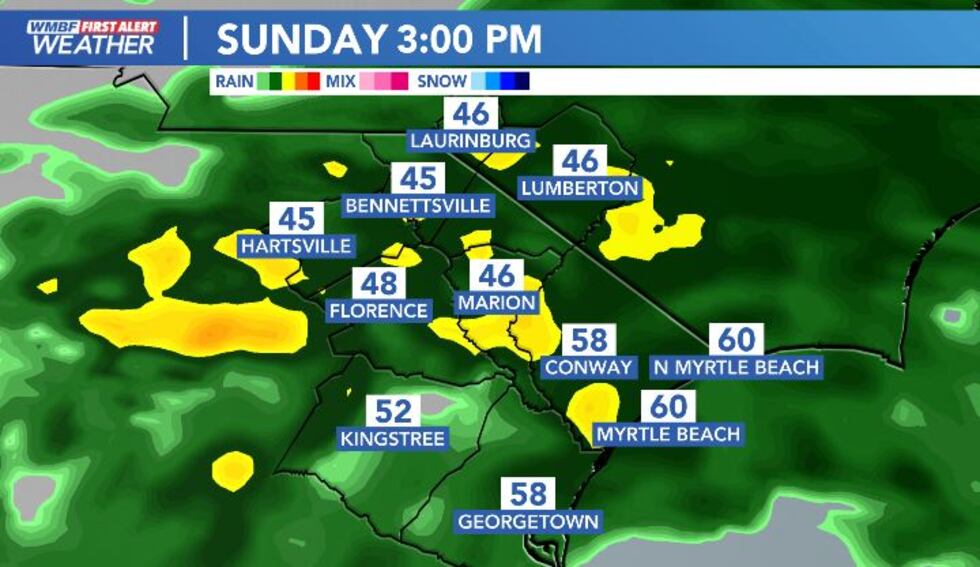 TONIGHT
We'll have chances of isolated showers to linger tonight through tomorrow morning. Overall, it's going to be a cloudy night with overnight lows dropping in the mid 40s inland and upper 40s along the beaches.
TOMORROW
We'll be done with the rain chances early in the morning. However, clouds will continue to stick early but they gradually clear out as the day goes. Winds from the south will keep our temperatures slightly warmer with highs in the lows 60s. But there will be cooler weather on the way!
COLD NIGHT AHEAD
Once the cold front pushes through the area, ours temperatures are going to drop. Highs are going to be in the mid 50s on Tuesday and Wednesday. However, frost is likely to occur every night from Monday to Wednesday night. Temperatures are going to be dropping in the low 30s in parts of the Pee Dee. So if you have already started your Spring planting, make sure you cover your plants this week to prevent any damage from the cold temperatures.
Copyright 2023 WMBF. All rights reserved.