Graham on bill combatting Mexican drug cartels: 'We are going to unleash the fury, might of the United States'
Published: Mar. 8, 2023 at 10:34 AM EST
|
Updated: Mar. 8, 2023 at 1:39 PM EST
WASHINGTON (WMBF) – South Carolina U.S. Senator Lindsey Graham is stepping up in the fight against Mexican drug cartels bringing fentanyl into America.
The senator held a press conference on Wednesday to discuss the bill just moments after speaking with family members who lost loved ones after being abducted by members of a suspected drug cartel in Mexico.
Graham said the sister of one of the victims said they are still waiting on the body to be returned.
RELATED COVERAGE:
The measure would designate Mexican drug cartels as Foreign Terrorist Organizations and authorize the use of military force against them.
He said that Mexican drug cartels have been terrorizing Americans for decades.
"We are going to unleash the fury and might of the United States against these cartels. We're going to destroy their business model and their lifestyle because our national security and the security of the United States as a whole depend on us taking this sizeable action," Graham said.
Graham explained the Foreign Terrorist Organization designation is the highest designation you can give a criminal terrorist enterprise that's not a nation-state. It would also mean that any other countries helping the Mexican drug cartels could also face prosecution under U.S. law.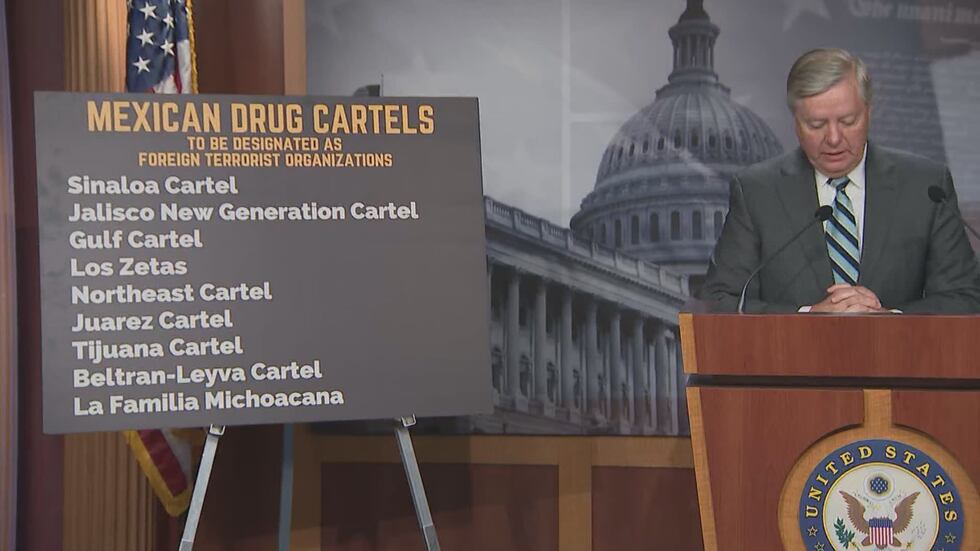 He said that Mexican cartels bringing fentanyl into the U.S. has become a game-changer, and the drugs are killing thousands of Americans.
"We've recovered over 12,000 pounds of fentanyl at the border this year, enough to kill almost three million people. Last year it was 14,700 pounds. This year it's almost 13,000 pounds and we got eight months to go," Graham explained.
He said 106,000 people died due to drug overdoses in 2022 and 70,000 were related to fentanyl.
The senator said with this legislation he also wants to authorize the U.S. military to go into Mexico and destroy the drug networks, if possible.
"Not to invade Mexico. Not to shoot Mexican airplanes down. But to destroy drug labs that are poisoning Americans," Graham said.
During the press conference, Graham had strong words for Mexico's president, saying he's not doing enough to stop drug cartels.
"To the president of Mexico, you have let your country slide into the hands of narco-terrorists. Your capability or your will doesn't exist to the point to stop what is, I think, the poisoning of America. You're leaving us with no other choice," Graham said. "To the president of Mexico, fentanyl is a weapon of mass destruction being unleashed on America from your country... You're allowing safe havens for these groups to operate without impunity because what you're doing is not working."
Graham will introduce the legislation in the coming days, and hopes it will receive bipartisan support.
Copyright 2023 WMBF. All rights reserved.