Severe Weather Awareness Week: How does hail form?
Published: Mar. 6, 2023 at 5:28 PM EST
MYRTLE BEACH, S.C. (WMBF) - It is Severe Weather Awareness Week across the Palmetto State.
On Monday, our First Alert Weather Team focused on hail and how it forms.
In South Carolina, hail can be the size of pebbles or as big as grapefruit, which was the largest size hailstone to fall in the Palmetto State. It happened in Florence on May 25, 2000.
Hail forms in convective situations with very cold cloud tops. As the air is being sucked in from the updraft relatively warm water droplets are forced into the sky. Soon those water droplets freeze becoming tiny pieces of ice or hailstones.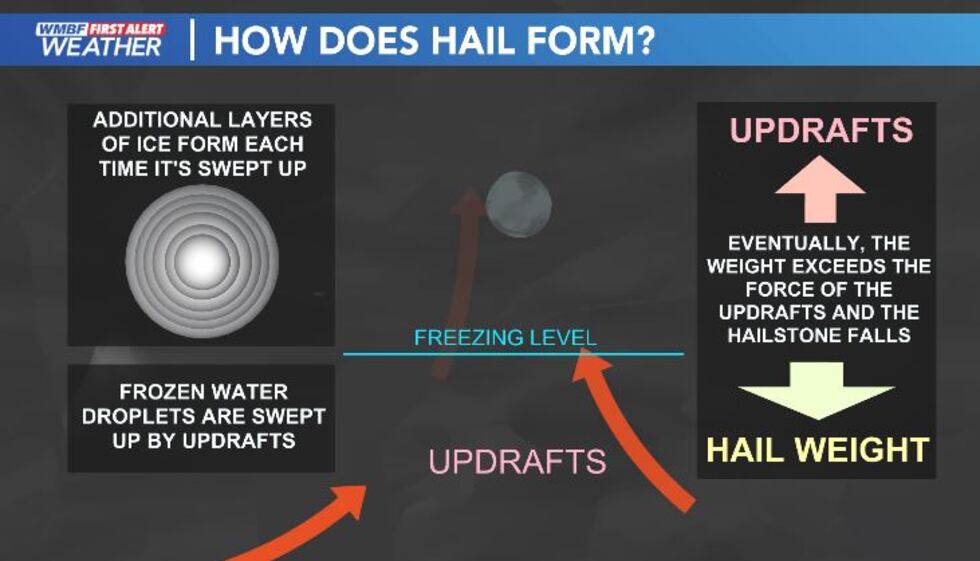 If the storm is very strong, the updraft can keep those hailstones airborne for a long period of time, as hail rises and falls it becomes coated.
Supercooled water droplets flash freeze on the surface of each hailstone allowing them to grow larger.
Eventually when hailstones become too heavy or when the updraft weakens they fall and come crashing to the ground smashing anything that it comes in contact with.
The deadliest hail storm in the United States occurred in the Lowcountry in Wateree River back on June 23, 1793. Eight people were killed during that massive hailstorm.
If a storm capable of producing hail is coming your way, the most important thing that you should do is to take cover.
Copyright 2023 WMBF. All rights reserved.