Coastal Carolina announces 2023 football schedule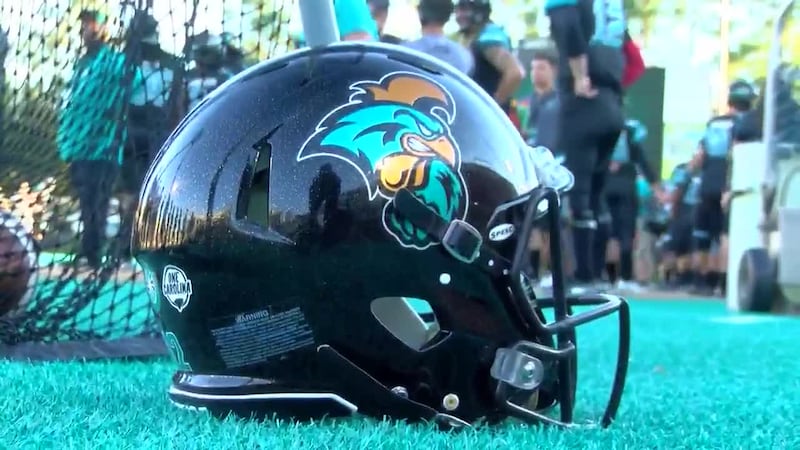 Published: Feb. 24, 2023 at 2:18 PM EST
NEW ORLEANS – The Sun Belt Conference league office announced the 2023 football schedule on Friday, Feb. 24, which will see Coastal Carolina play two midweek games on national television via the ESPN networks.
MORE INFORMATION | Sun Belt Conference Football Schedule
Coastal originally announced its 2023 opponents back on Jan. 5.
Below is the 2023 schedule:
Sept. 2 – at UCLA (Season Opener)

Sept. 9 – vs. Jacksonville State

Sept. 16 – vs. Duquesne

Sept. 21 – vs. Georgia State* (Thursday)

Sept. 30 – at Georgia Southern*

Oct. 10 – at App State* (Tuesday)

Oct. 21 – at Arkansas State*

Oct. 28 – vs. Marshall*

Nov. 4 – at Old Dominion*

Nov. 11 – vs. Texas State*

Nov. 18 – at Army

Nov. 25 – vs. James Madison*
In conjunction with ESPN, the Sun Belt Conference, and the opposing schools, television networks and game times for the first three weeks of the season will be announced in the summer. Starting with the Week 4 games, ESPN and the Sun Belt Conference make their selections 12 days out.
(* indicates Sun Belt opponent)
Copyright 2023 WMBF. All rights reserved.