Coastal Carolina men fall to Texas State, 78-75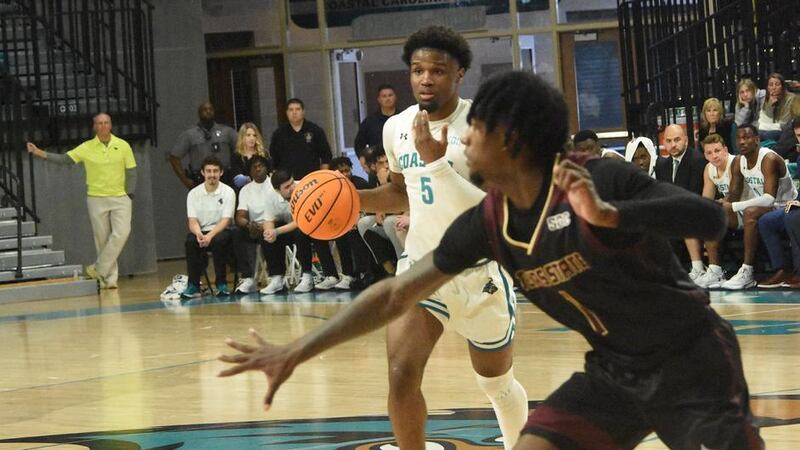 Published: Feb. 18, 2023 at 5:48 PM EST
CONWAY, S.C. – Antonio Daye scored 20 points and Josh Uduje added 17 for Coastal Carolina, but it wasn't enough as Texas State scored the final four points to earn a hard-fought 78-75 win over the Chanticleers in a Sun Belt Conference game Saturday afternoon at the HTC Center. It was the final regular season home game for the Chanticleers.
Daye had 14 of his points in the second half and made driving layup and free throw to give Coastal a 75-74 lead with 36 seconds left. But from there, Texas State made an inside bucket and a couple of free throws to walk away with the victory.
It was a tightly contested game, with 13 ties and eight lead changes and neither team holding more than a seven-point advantage. Texas State got that seven-point advantage at 70-63 with four minutes to go, but Coastal didn't fold. The Chants pulled even at 72-72 at the 1:32 mark on a 9-2 run in which Henry Abraham contributed a long three-pointer and a breakaway layup. A minute later, Daye drove the lane in traffic and made an underhanded lefty layup and free throw to put Coastal back in front momentarily.
Daye and Uduje were just two of Coastal's four players in double figures. Linton Brown and Abraham came off the bench to contribute 13 points and 11 points, respectively. All but 10 of Coastal's points came from the backcourt as the Chants inside game was slowed by foul troubles. The loss leaves Coastal at 11-17 overall and 5-11 in the conference.
"We got down to the wire and they just made one more play than we did," said Coastal head coach Cliff Ellis. "That's been the story of our season. It was a tough loss. We got hurt by foul trouble with our frontline players and we had to focus on our perimeter guys. We had to play so small, and we didn't get anything inside today."
Mason Harrell, a diminutive 5′9″ senior point guard, scored 22 points to lead Texas State, which improved to 11-17 and 4-11. The Bobcats also had three other players in double figures, including Niguel Ceaser, who had 15 points and put Texas State in front 76-75 with a close-range hook shot with 15 seconds remaining.
Tyrel Morgan made the first eight points for his team to give Texas State an early 8-2 lead. But, Coastal rallied for a 6-0 run, with Uduje and Jomaru Brown each hitting a pair of free throws in the scoring streak to put the Chanticleers in front 24-21 midway through the first half. The Chants extended their lead to six points, at 34-28, on a three-pointer by Linton Brown before the Bobcats got three layups to make the score 34-all at the half. Uduje and Linton Brown each had nine points to lead Coastal in the period.
Coastal again proved why it is the best free throw shooting teams in the Sun Belt, hitting 18-of-20 attempts (90.0 percent). The Chants shot 49 percent from the field (25-of-51) and 54 percent from behind the three-point line (7-of-13). The Chants' leading rebounder was DJ Basey, who had six rebounds in his 21 minutes of action.
Coastal will finish the regular season with road games at Georgia Southern and Troy next week before beginning play in the Sun Belt Conference Tournament, which runs from Feb. 28-March 6 at the Pensacola, Fla., Bay Center.
Copyright 2023 WMBF. All rights reserved.