Horry County Habitat for Humanity to open 2nd ReStore location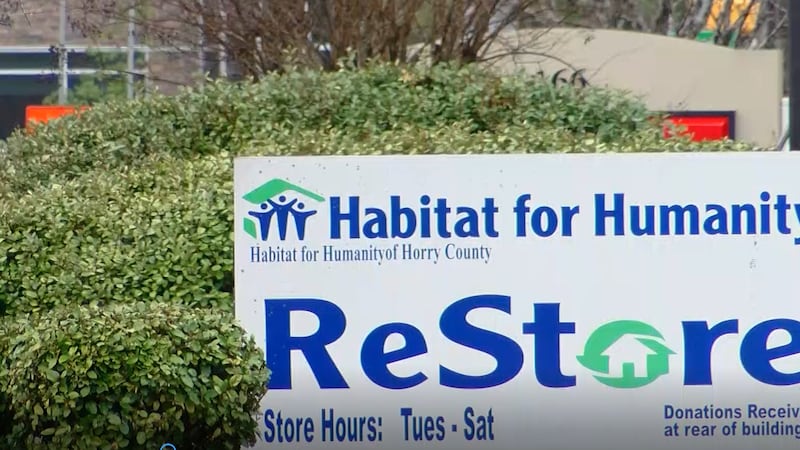 Published: Feb. 17, 2023 at 12:30 PM EST
HORRY COUNTY, S.C. (WMBF) - Habitat for Humanity of Horry County is opening a second ReStore location in Longs.
ReSale offers discounted windows, doors, paint, hardware, tools, furniture, appliances and decor. Over the last year, sales from the Myrtle Beach location helped keep 1,100 tons of materials out of local landfills and fund the construction of three homes.
"The Habitat ReStore model is much more than a thrift store, it is a vital financial component to support our mission to build safe, decent, and affordable homes for families in need in our community," states Jason Greene, the Executive Director. "The importance of this expansion cannot be underscored enough for it will allow Habitat for Humanity of Horry County to expand new home construction, maintenance and repair activities, financial literacy programs, and community impact projects…which will allow us to serve more families in Horry County."
The non-profit will break ground on the new location on Friday, Feb. 24 at 10 a.m. at 2191 E. Highway 9 in Longs.
The organization plans to construct a 20,000-square-foot ReStore facility just off Highway 9 in Longs, on the corner of Charter Drive and Highway 9. Construction is expected to take approximately 10 months, with the new store opening in January of 2024.
"With this expansion of a second ReStore, Habitat for Humanity of Horry County will now be capable of serving a larger part of our community base of Horry County," according to Joey Gregory, the ReStore Director. "This expansion will allow us to provide greater resources to our community to strengthen our mission of building safe, decent, affordable housing and continuing to support our other programs."
The first ReStore opened in 1991, according to Habitat for Humanity.
For more information about the Habitat for Humanity of Horry County ReStore, habitathorry.org/restore.
Copyright 2023 WMBF. All rights reserved.