Santee Cooper awards grant funds to proposed EV projects in Horry County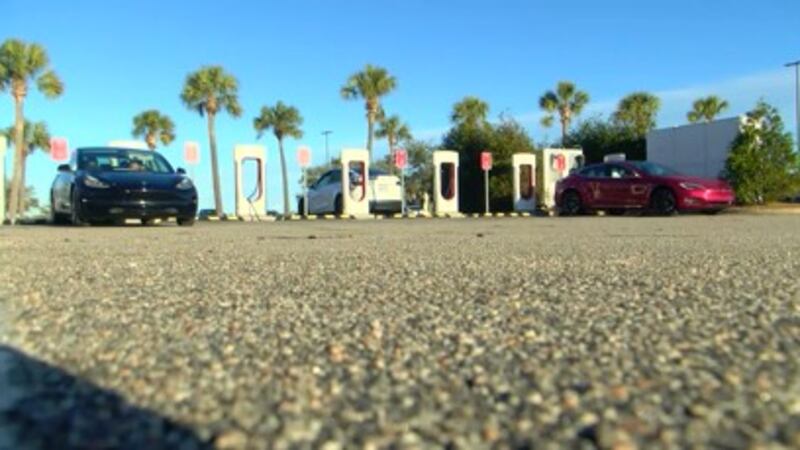 Published: Jan. 30, 2023 at 9:31 PM EST
HORRY COUNTY, S.C. (WMBF) - Santee Cooper has awarded almost $100,000 to fund electric vehicle projects proposed by the city of Conway, Coastal Carolina University, Myrtle Beach Area Chamber of Commerce, McLeod Health Seacoast and Elite Home Care.
The funds come from the EVolve Grant Program which allows eligible commercial customers to apply for up to $25,000 in grants for a variety of electric vehicle projects such as make-ready research, education and outreach, EV charging infrastructure and electric fleet conversion. Santee Cooper will disperse $95,978 among five of its commercial customers.
"Santee Cooper is eager to help our customers, and the state of South Carolina, support electric vehicle adoption, and this new grant program is one way we're helping prepare," said Vicky Budreau, Chief Customer Officer. "Specifically, these grants will improve charging capabilities in our communities and help customers switch to EVs."
Five of Santee Cooper's commercial customers will receive grant money for upcoming EV projects. Those include:
• City of Conway – $9,706 for charging infrastructure.
• Coastal Carolina University – $25,000 for charging infrastructure.
• Myrtle Beach Area Chamber of Commerce – $25,000 for make-ready research and charging infrastructure.
• McLeod Health Seacoast – $23,772 for charging infrastructure.
• Elite Home Care – $12,500 for fleet conversion to EVs.
City of Conway spokesperson June Wood said the city plans to install one EV pedestal which can charge two vehicles. The pedestal will be installed at a public parking lot on Main Street and Third Avenue and the installation is expected to be finished by April.
CCU will be using the grant money to install 14 EV chargers throughout campus for use by students, faculty, staff, and visitors.
"We are very thankful for Santee Cooper's support in enhancing the University's EV infrastructure," said Jerry Rashid, the Director of Communication at Coastal Carolina University.
Myrtle Beach Area Chamber of Commerce announced Monday that a portion of the grant money will go toward installing a public-use EV charger at the chamber's Visitors Center and N. Oak Street offices.
The chamber will also conduct a comprehensive study to identify current EV chargers locations and where additional chargers are needed in the Grand Strand.
"We're very thankful to Santee Cooper for approving the Myrtle Beach Area Chamber for this grant and its overall effort to support more EV charging stations across the Grand Strand. These efforts will help facilitate more EV travel for our residents and visitors, and will spur more sustainable travel to our destination," said Karen Riordan, MBACC and CVB President and CEO.
Santee Cooper and Resource Innovations, an independent grant manager, worked together using a competitive scoring process to choose the first five projects that will receive funding through the new program.
"We are seeing an increase in the adoption of EVs and their associated technologies, and we are excited to be able to help our commercial customers move their projects forward," said Andy Altman, Senior Manager of Conservation and Energy Efficiency. "While we have rebates already for qualifying residential home EV chargers and offer special overnight rates for charging electric vehicles, the projects receiving EVolve Grant money allow us to support EV research, adoption and infrastructure on a more community-wide level."
Grant recipients must complete their projects within the year.
Santee Cooper said a new 2023 grant cycle is expected to launch on Feb. 1 with $50,000 in EVolve Grant funding available.
More information on the EVolve Grant program is on Santee Cooper's website.
Copyright 2023 WMBF. All rights reserved.