FDA revamping foods program to move past 'constant turmoil'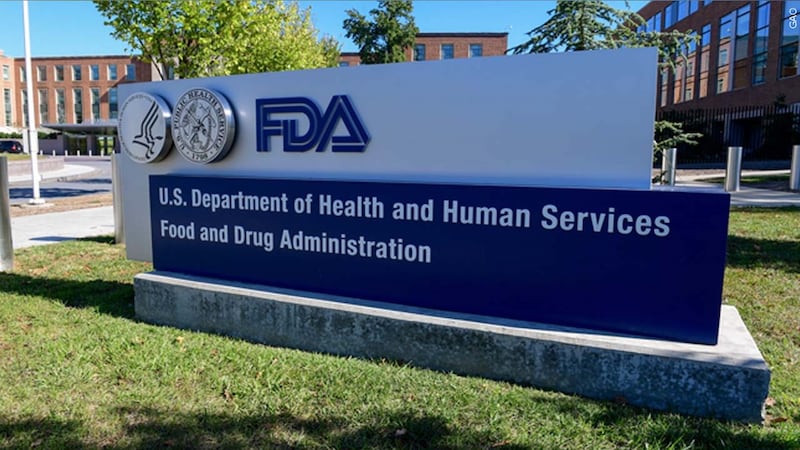 Published: Jan. 31, 2023 at 11:21 AM EST
|
Updated: Jan. 31, 2023 at 2:08 PM EST
(AP) - The head of the Food and Drug Administration on Tuesday announced an overhaul of the agency's food safety and nutrition division, vowing that a new structure will better protect consumers and the U.S. food supply.
FDA Commissioner Dr. Robert Califf said he would create a new human foods program led by a deputy commissioner with authority over policy, strategy and regulatory activities for the part of the agency that oversees 80% of the foods Americans eat.
"This is one of the most important changes in the history of the FDA," Califf said in an interview.
The move merges two existing FDA programs and some regulatory authorities. Tapping a single leader "unifies and elevates the program while removing redundancies, enabling the agency to oversee human food in a more effective and efficient way," Califf said.
The announcement follows months of scrutiny of FDA over contamination at a Michigan factory that led to a nationwide infant formula shortage. And it follows a scathing report that found FDA's food division was plagued by decentralized leadership, indecisiveness and a culture of "constant turmoil" that impeded actions to protect public health. For years, the agency has been criticized for responding too slowly to outbreaks in produce, heavy metals in baby food and the need to reduce sodium in the U.S. diet, among other issues.
Califf's actions drew mixed reviews from food safety advocates. Some said it was a good start, while others said he didn't go far enough to dismantle ingrained structural problems.
"I think it does a good job of identifying the essential problems and addressing them head-on," said Dr. Peter Lurie, who heads the Center for Science in the Public Interest, which focuses on consumer nutrition, food safety and health.
Mike Taylor, who previously served as FDA deputy commissioner for foods and veterinary medicine, said the new deputy doesn't appear to have full authority over the office responsible for inspecting company plants, laboratory testing, imports and investigations.
"If that's the case, the human foods program at the FDA will remain fragmented and the deputy commissioner will not be empowered to make the change that is necessary," Taylor said.
Califf said that the deputy commissioner will have authority over the human foods budget and priorities. He said it would be a mistake to create "a monolithic organization" to overcome aversion to change.
"Just because there's been resistance in the past, it doesn't mean it can't work," Califf added.
The changes aim to straighten out a convoluted leadership structure. The FDA oversees human and veterinary drugs and medical devices, along with much of the U.S. food supply. The Agriculture Department also oversees some food products.
Frank Yiannas, the current FDA deputy commissioner for food policy and response, is leaving his post next month. Susan Mayne, director of the current Center for Food Safety and Applied Nutrition, said in a statement that Califf asked her to stay on through the transition. The new deputy, who will report directly to the commissioner, will be named by spring, Califf said.
The revamped foods program will include a separate center focused on nutrition, including foods such as infant formula, plus an office to coordinate state efforts to identify and prevent foodborne illness outbreaks. The plan also calls for a new expert advisory committee to weigh in on food safety, nutrition and new food technologies.
Under the new structure, the deputy commissioner will not oversee FDA's veterinary medicine center. Califf said that's because much of the center's work involves animal drugs and devices, not food. In addition, the animal feed industry worried that it would become "subsidiary to human food," Califf said.
That disappointed Mitzi Baum, president of the nonprofit STOP Foodborne Illness. Human foods, animal foods and outbreaks are often closely linked and they should be part of the same program, she said.
"Any change is messy. It's going to be disruptive," Baum said. "Why not make all of the changes that need to be made in order to create the most efficient and effective agency?"
___
The Associated Press Health and Science Department receives support from the Howard Hughes Medical Institute's Science and Educational Media Group. The AP is solely responsible for all content
Copyright 2023 The Associated Press. All rights reserved.