Coastal Baseball to Host 'Step Up to the Plate' Dinner on Feb. 9
After a two-year absence, the fundraising dinner returns this year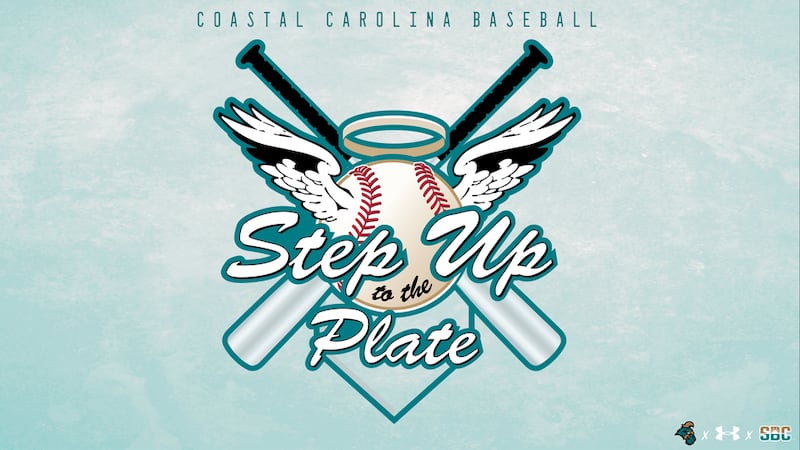 Published: Jan. 11, 2023 at 5:39 PM EST
After only being able to host an online event the last two years, the Coastal Carolina University baseball team is excited to announce that they will be hosting the 16th annual "Step Up to the Plate" kickoff dinner Thursday, Feb. 9, from 6-9 p.m. ET at the Chesapeake House in Myrtle Beach. Tickets are $100 per person and $200 per couple. All proceeds will directly benefit the Grand Strand Miracle Leagues and the Mike Pruitt Scholarship Fund.
Hosted by head coach Gary Gilmore, Coastal Carolina baseball fans will be able to meet the 2023 team, enjoy an amazing dinner, and also participate in a one-of-a-kind silent and live auction. The baseball program has been involved with the Grand Strand Miracle Leagues for the past 15 years, helping the athletes during the games with hitting, pitching, fielding, and coaching.
The Mike Pruitt Scholarship Fund was established in the summer of 2008 and provides scholarships to underprivileged kids ages 8-12 to attend the Coastal Carolina Youth Baseball Camps. The youngsters are introduced to advanced instruction in throwing, fielding, hitting, base running, and team defense by the Coastal Carolina University Baseball Camp staff and student-athletes.
Anyone interested in attending the "Step Up to the Plate" Dinner can purchase tickets to the event or find out more information online.
Tickets will sell out fast, so make sure to purchase yours today!
The link to the online silent auction items will be shared at a later day.
For fans that are unable to attend the dinner event, tax-deductible contributions are welcomed. To support the Grand Strand Miracle Leagues and the Mike Pruitt Scholarship Fund click here to donate.
Copyright 2023 WMBF. All rights reserved.