'Never cried so hard in my life': Damar Hamlin resuscitated twice after cardiac arrest, uncle says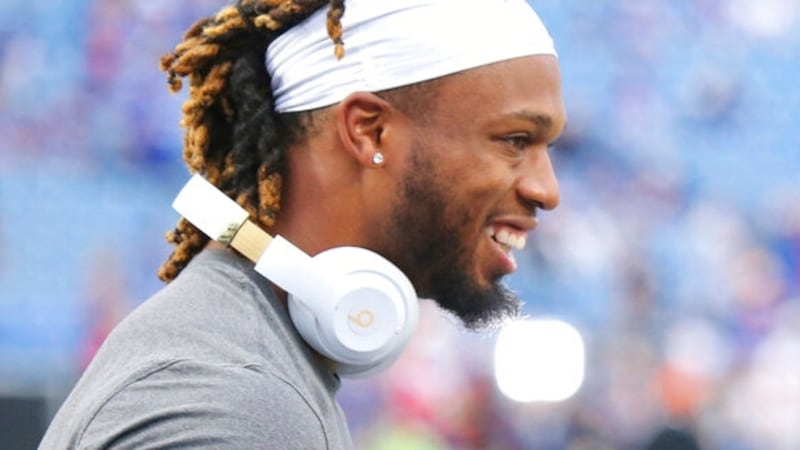 Published: Jan. 4, 2023 at 7:03 AM EST
(WMBF) - Damar Hamlin's uncle told CNN in a televised interview outside the hospital Tuesday that Bills' safety Damar Hamlin needed to have his heart re-started twice: Once on the field, and again after he arrived at the hospital.
Hamlin suffered a cardiac arrest after making a tackle during Monday night's game, causing the NFL to suspend a pivotal game against the Cincinnati Bengals that quickly lost significance in the aftermath of a scary scene that unfolded in front of a national television audience.
RELATED COVERAGE | Bills' Hamlin in critical condition after collapse on field
"They were resuscitating him on the field before they brought him in the hospital and then resuscitated him a second time when he got to the hospital," Dorrian Glenn, Hamlin's uncle, told CNN. "I just want to show my gratitude for the medical staff that were on hand because if not for them, my nephew probably wouldn't even be here."
Glenn said he was watching the game with some relatives in Pittsburgh. He arrived in Cincinnati early Tuesday; the cities are about 300 miles apart.
"I never cried so hard in my life," Glenn said. "Just to know, like, my nephew basically died on the field and they brought him back to life. I mean, it's just heartbreaking."
Hamlin's mother and father have been at his side the entire time. Glen said they're heartbroken.
"This is just devastating," he said.
Glenn said there were some encouraging signs, such as doctors lowering the level of oxygen Hamlin needs from 100% to 50%. Doctors have flipped him on his stomach to help take the pressure off his lungs.
"He's still sedated right now," Glenn told CNN. "They just want him to have a better chance of recovering better. So, they feel that if he's sedated, his body can heal a lot faster than if he was woke and possibly cause other complications."
"His heartbeat was restored on the field and he was transferred to the UC Medical Center for further testing and treatment," the Bills said, referring to the University of Cincinnati's Level 1 trauma center. "He is currently sedated and listed in critical condition."
RELATED COVERAGE
Teammate Stefon Diggs later went to visit Hamlin at the hospital while fans of both teams gathered outside.
Jordon Rooney, Hamlin's representative, said early Tuesday morning, "His vitals are back to normal and they have put him to sleep to put a breathing tube down his throat. They are currently running tests. We will provide updates as we have them."
Tuesday afternoon, the Hamlin family released the statement below via Rooney.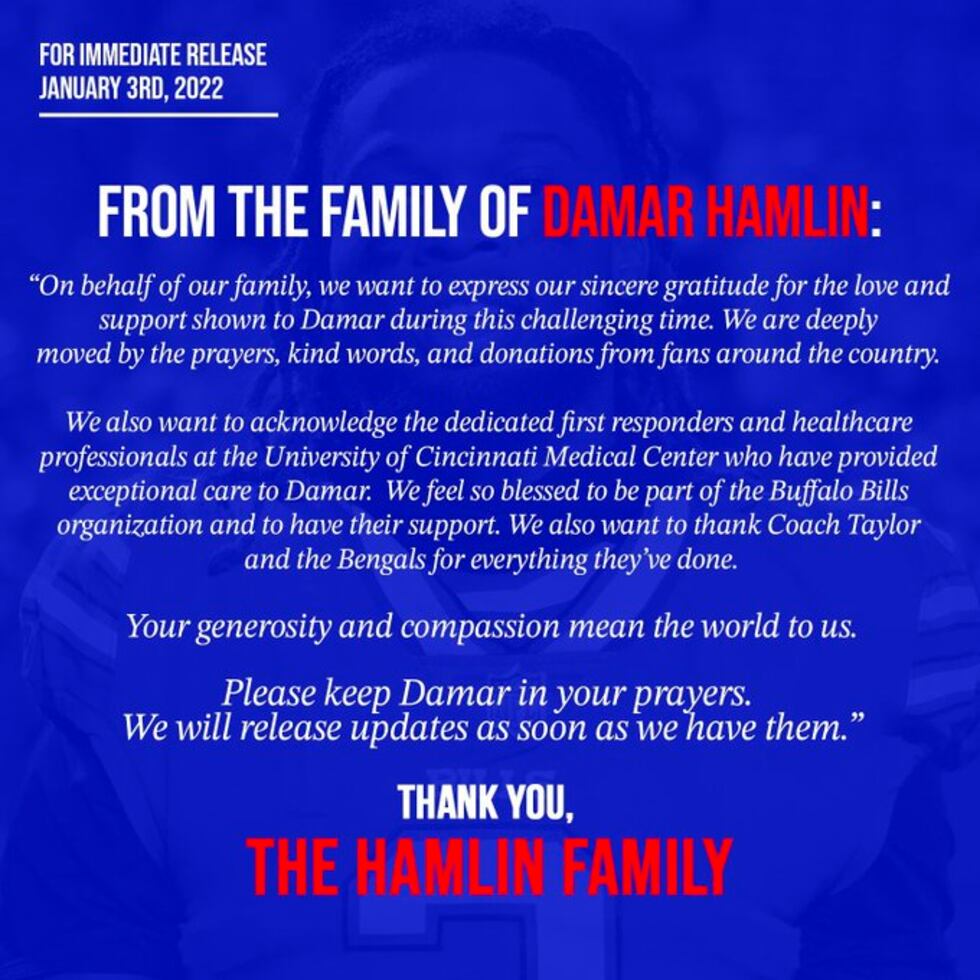 NFL games are rarely suspended because of injury. Commentators said the fact that gameplay had stalled was a sign of the shocking and severe nature of the emergency.
Copyright 2023 The Associated Press. All rights reserved.