FIRST ALERT: Earl racing off to the northeast, two chances of development
Published: Sep. 5, 2022 at 6:17 AM EDT
|
Updated: Sep. 9, 2022 at 7:54 AM EDT
MYRTLE BEACH, SC (WMBF) - Hurricane Earl is moving fast to the northeast away from the United States. Earl is expected to slow down later Saturday and allow for some strengthening. Meanwhile, our two chances for development look lower today.
HURRICANE EARL
At 5 AM, the center of Hurricane Earl was located near latitude 32.7 North, longitude 62.4 West. Earl is moving faster toward the north-northeast near 17 mph. A turn toward the northeast with an additional increase in forward speed is expected today and tonight. Earl is then forecast to slow down considerably Saturday night and Sunday. On the forecast track, Earl will continue to move northeastward away from Bermuda today and will move to the southeast of Newfoundland Saturday and Sunday.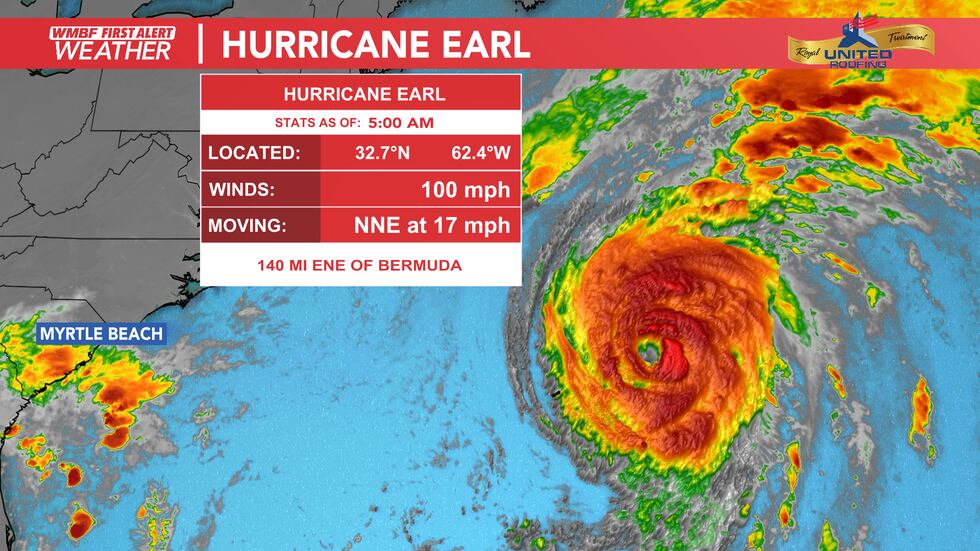 Data from an Air Force Reserve Hurricane Hunter aircraft indicate that maximum sustained winds have increased again to near 100 mph with higher gusts. Some additional strengthening is forecast through tonight. Earl is expected to complete its transition to a powerful hurricane-force extratropical low on Saturday and then gradually weaken through early Monday. Earl's wind field continues to grow in size. Hurricane-force winds extend outward up to 80 miles from the center, and tropical-storm-force winds extend outward up to 205 miles. The minimum central pressure based on aircraft reconnaissance data is 963 mb.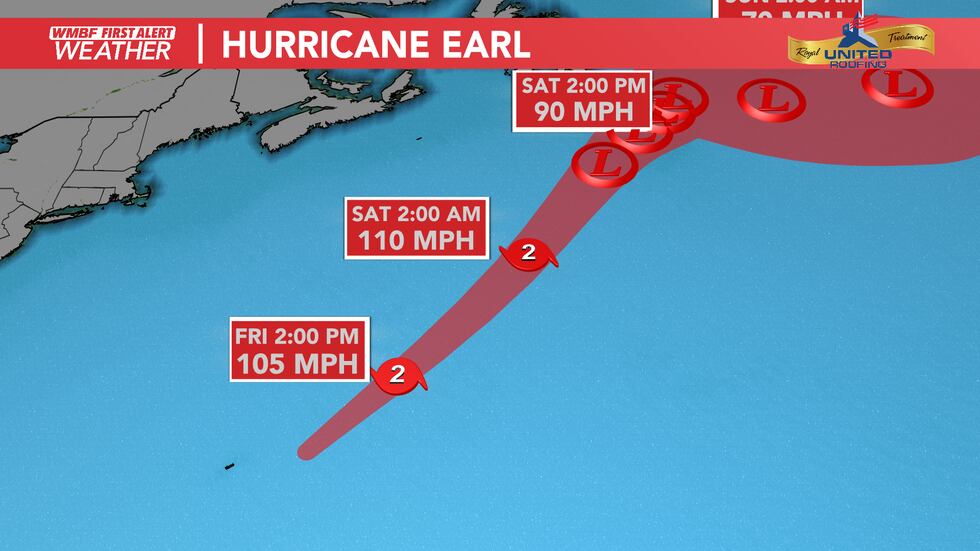 CENTRAL TROPICAL ATLANTIC
A gale-force low pressure system located about 1200 miles east of the Leeward Islands continues to produce disorganized showers and thunderstorms that are displaced well to the northeast of the circulation center due to strong upper-level winds. Although the upper-level winds are expected to remain strong, the low still has some opportunity during the next day or so to become a short-lived tropical cyclone while moving toward the west-northwest at about 15 mph into the central subtropical Atlantic. The chance of development is 40% over the next two and five days.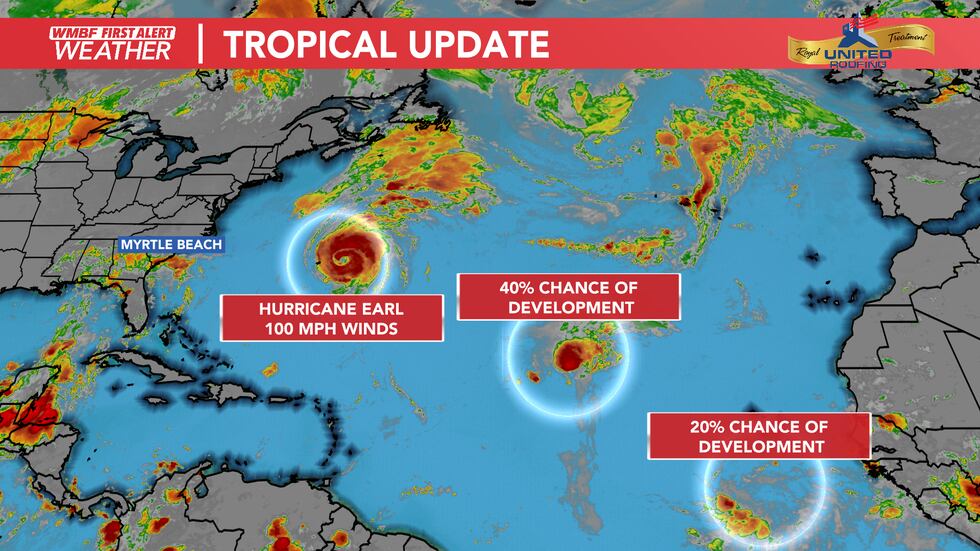 EASTERN TROPICAL ATLANTIC
A tropical wave located several hundred miles south of the Cabo Verde Islands is producing a disorganized area of showers and thunderstorms. Development of this system, if any, is expected to be slow to occur while it moves westward or west-northwestward at 15 to 20 mph across the eastern and central tropical Atlantic through the middle of next week. The chance of development is 20%.
Copyright 2022 WMBF. All rights reserved.