FIRST ALERT: Steamy summer pattern continues
Updated: Jun. 9, 2021 at 5:32 AM EDT
MYRTLE BEACH, S.C. (WMBF) - Our steamy weather pattern continues with the heat, humidity and daily storm chances.
Expect another warm and muggy day again with temperatures climbing into the low-mid 80s this afternoon. Showers and storms will return to 40% by the middle of the day and into the afternoon hours. It's not a complete washout but you will want to keep the First Alert Weather App handy for any outdoor plans.
The rest of the week features more of the same with high humidity in place. Temperatures will warm a few degrees into the middle to upper 80s on the beach to the 90s inland! The lingering humidity will keep the chance of a few downpours in the forecast at times through Saturday. If you're headed to CCMF, wear the light clothing, drink plenty of water and keep an eye on the radar. Showers and storms will be at their highest chance through the middle of the day. The rain chances drop as you head into the evenings.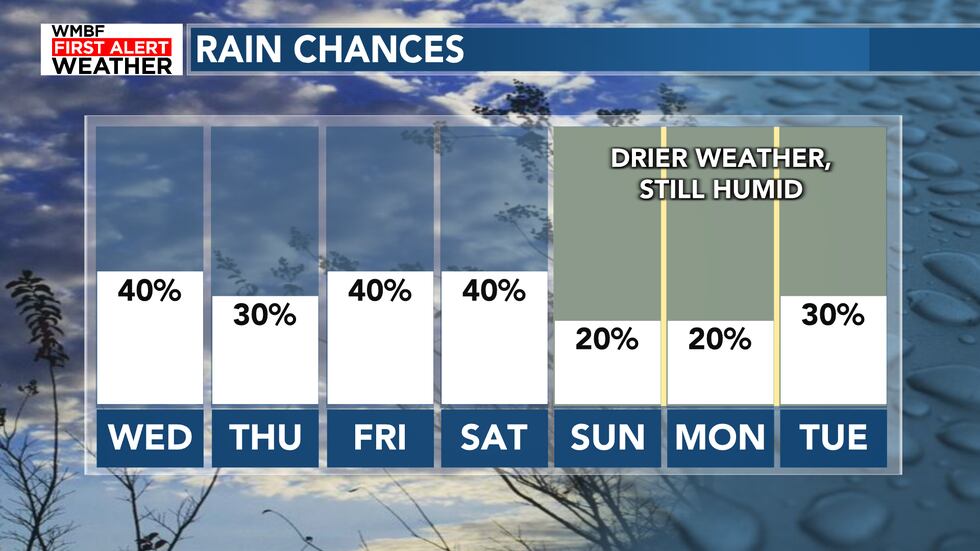 Models are in agreement with a surge of slightly drier air trying to move into the region by Sunday, dropping the humidity and rain chances just a bit. Regardless, it's still June weather for the area with some dry time early next week as well.
Copyright 2021 WMBF. All rights reserved.