FIRST ALERT: Increasing humidity and rain chances
Updated: Jun. 1, 2021 at 3:42 PM EDT
MYRTLE BEACH, S.C. (WMBF) - A changing weather pattern will bring much higher humidity and rain chances to the region for the next several days.
The first surge of real summer-like humidity will arrive tonight and linger through the weekend. The result will be increasing chances of much needed rainfall at times.
Tonight will see fair skies turning mostly cloudy with the risk of a few showers near daybreak Wednesday. Temperatures will drop into the upper 60s to near 70.
Wednesday will feature the risk of showers and storms at times. The best chances will arrive the first part of the day near the beaches and then shift inland with the seabreeze through the afternoon and evening. Rain chances will climb to 40% on Wednesday with high temperatures near 80 at the beach and into the lower 80s inland.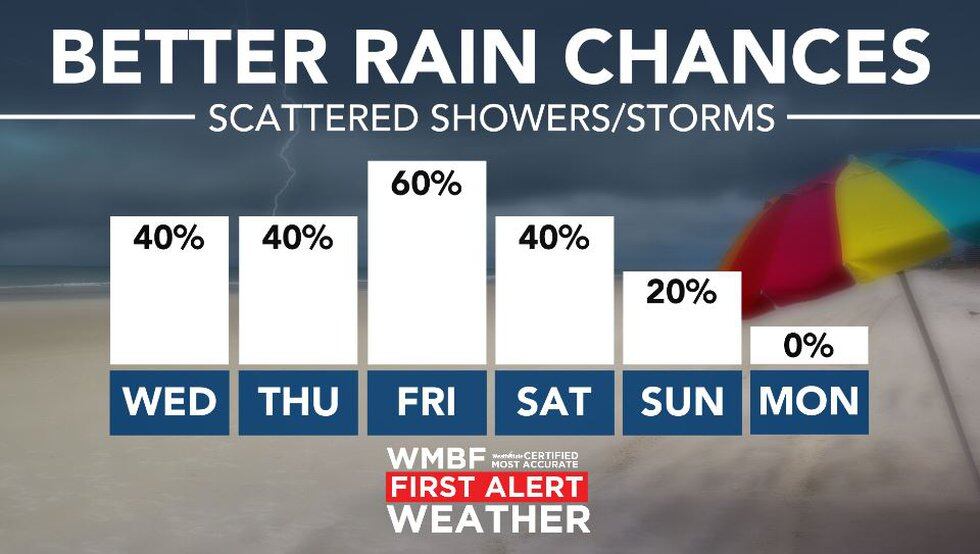 Thursday will see a similar weather pattern with a 40% chance of scattered showers and storms at times, but plenty of breaks in between. It will continue to turn muggy with temperatures climbing into the lower 80s.
Friday through the weekend will see the risk of showers and storms continuing at times. Rain chances will peak on Friday at 60%. Those chances drop to 40% by Saturday and to 20% by Sunday. Temperatures will remain steady in the lower to middle 80s.
Rainfall over the next 5 days could be beneficial to the ongoing drought across the area. Average rainfall will total 1 to 2 inches through the weekend.
Copyright 2021 WMBF. All rights reserved.