FIRST ALERT: Increased fire danger today, changes arrive this weekend
Updated: Apr. 30, 2021 at 4:10 AM EDT
MYRTLE BEACH, SC (WMBF) - Red Flag Warnings and Fire Weather Watches are out for increased fire conditions today across the Carolinas. The relative humidity is low, meaning our air is dry. The winds will pick up throughout the day and with dry grass and brush, the threat for increased fires is certainly there.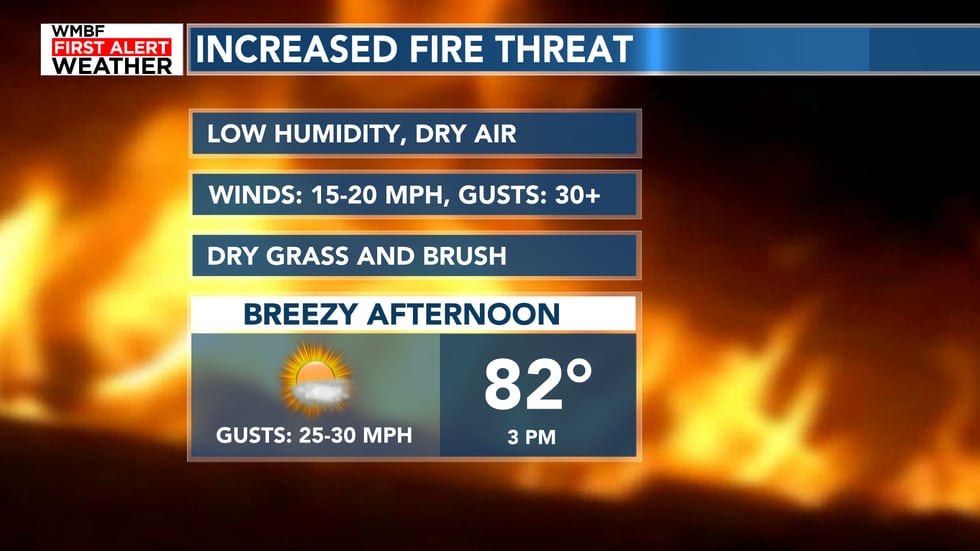 Winds will pick up today as the cold front slides through the region. Winds will be at 15-20 mph throughout the afternoon with wind gusts of 30 mph possible today. Burn bans continue for many in the Carolinas as we continue to search for that next drop of rain.
Highs today will reach the low-mid 80s with breezy winds. That front will drop our temperatures into the mid-upper 50s tonight and bring a nice and refreshing cool down to the weekend forecast, just briefly that is.
Saturday will be the coolest day with afternoon temperatures climbing into the lower 70s. A few clouds will be present in the morning along with a breezy wind. Saturday afternoon looks perfect! Sunday will be a bit warmer with temperatures returning to the upper 70s to near 80. Sunny skies and rain-free weather will continue through the weekend.
Next week will see a return to the very warm weather with afternoon temperatures returning to the lower 80s by Monday and into the middle to upper 80s by the middle of next week. Increasing humidity will likely lead to a few scattered showers and storms in the afternoon, but no significant rain is expected. Rain chances will be at 20-30% for each day next week. Consider yourself lucky if you pick up a drop of rain.
Copyright 2021 WMBF. All rights reserved.