FIRST ALERT: A few showers Thursday
Updated: Apr. 14, 2021 at 3:36 PM EDT
MYRTLE BEACH, S.C. (WMBF) - A few showers will be likely from time to time on Thursday followed by cooler weather to end the week.
Tonight will see skies continue to turn mostly cloudy with a few spotty showers possible at times. Temperatures will remain mild tonight with readings only in the lower 50s.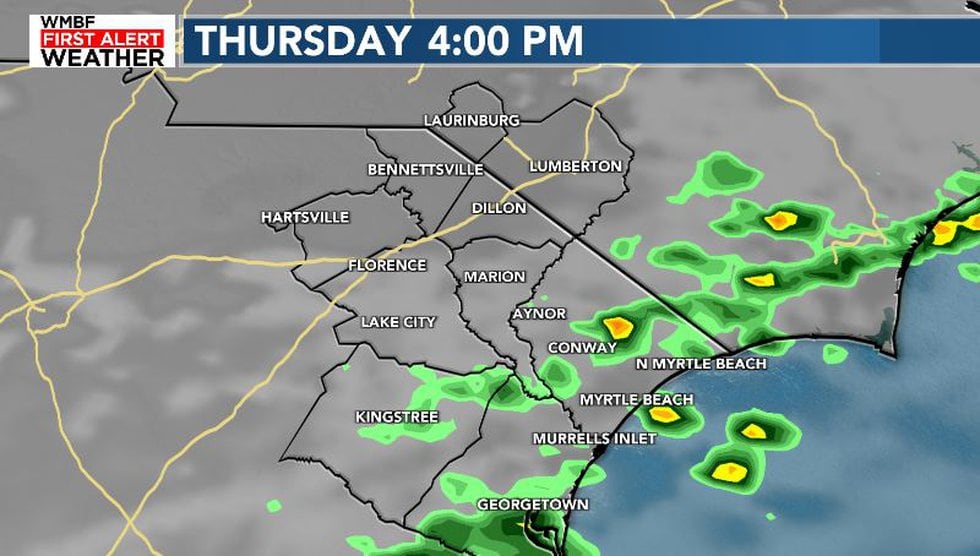 While Thursday will not be a washout, hit or miss showers will be possible at times through the day with a few slightly heavier downpours possible by the late afternoon and evening. With mostly cloudy skies in place, temperatures will only climb into the lower 70.
Showers will quickly come to an end Thursday evening with clearing skies and cooler weather returning. By Friday morning, temperatures will drop into the upper 40s and lower 50s.
Sunny skies return Friday with temperatures only climbing into the upper 60s to near 70.
The weekend forecast is a bit more complicated now with a storm system passing south of the area on Saturday. While the heaviest and steadiest rain will stay to our south, enough moisture will move far enough north for mostly cloudy skies and a 30% chance of showers at times on Saturday. Temperatures will once again be on the cool side with afternoon readings in the middle to upper 60s.
Sunny skies and temperatures in the 70s will return by Sunday.
Copyright 2021 WMBF. All rights reserved.