Facebook alerts authorities to bomb-making threats; leads to arrests in Myrtle Beach, Florence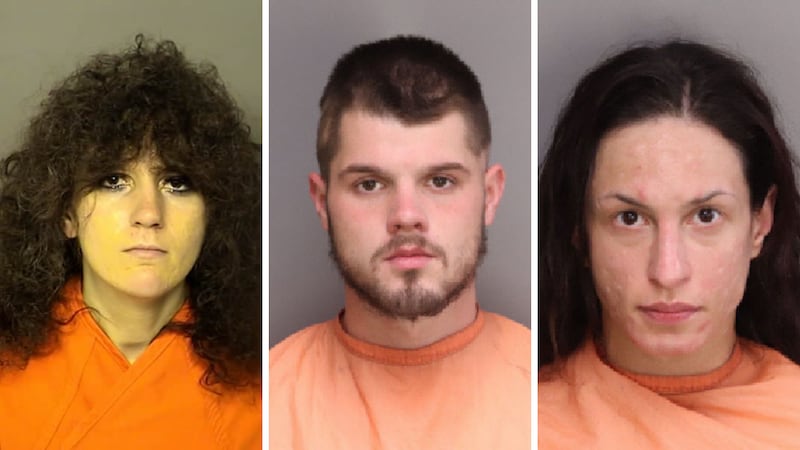 Updated: Apr. 14, 2021 at 4:43 PM EDT
DARLINGTON COUNTY, S.C. (WMBF) – Social media giant, Facebook, helped alert authorities about a possible bomb that sparked investigations in the Grand Strand and Pee Dee, according to a police report.
WMBF News reported in early April that arrests were made in Florence and Myrtle Beach that were tied to 'explosive material' investigations that originated in Darlington County.
Krystal Jaworski and Tyler Santaniello were arrested in Florence after authorities said they tried to detonate a destructive device in the area of Radio Drive.
Then in Myrtle Beach, police and agents with the South Carolina Law Enforcement Division were called to the 800 block of 44th Avenue North where Ashley Rom was taken into custody. An affidavit revealed that investigators found items believed to be used for homemade explosives, such as a "white powder like substance" and disassembled shotgun shells.
RELATED COVERAGE:
Affidavit: Ongoing investigation in Darlington County led to 'explosive material' arrest in Myrtle Beach
Duo attempts to detonate destructive device in Florence, police say
WMBF News reached out to the Darlington County Sheriff's Office to see how the investigation began, and how the two arrests are connected.
According to a police report, Facebook contacted the Darlington County dispatch and informed them of a suspicious Facebook Live.
The social media giant advised "that they had someone on Facebook Live making threats or possibly making a bomb around the area of Timmonsville Highway and Cool Breeze Drive in the Darlington area."
Darlington County Sheriff James Hudson confirmed that Rom and Jaworski were roommates.
The spokesperson for SLED, Tommy Crosby, explained that explosives experts from the agency were brought in to help Myrtle Beach police and make sure that the items found were rendered safe.
WMBF News is working to get the arrest warrants for Jaworski and Santaniello in order to gather more information on the investigation.
Copyright 2021 WMBF. All rights reserved.