Chief: Crime in Myrtle Beach sees double-digit decrease for third straight year
Published: Feb. 23, 2021 at 1:19 PM EST
MYRTLE BEACH, S.C. (WMBF) – Crime in Myrtle Beach continued its downward trend in 2020.
That's according to the annual report Myrtle Beach Police Chief Amy Prock presented during Tuesday's city council workshop.
According to Prock, officers with the Myrtle Beach Police Department responded to 129,083 calls in 2020. That's up from 125,055 in 2019.
Prock said that most violent crimes, such as robbery and homicide, are trending down. She added the department has really focused on retail theft and larcenies.
For 2020, larceny was down 23% compared to 2019, according to Prock. A breakdown of crime statistics for 2019 and 2020 can be seen below: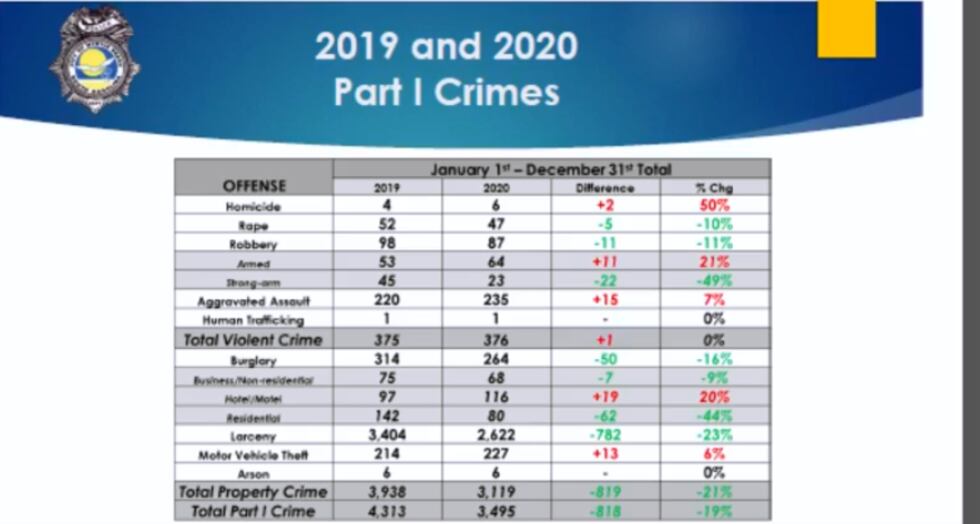 "You have heard me say on many occasions public safety is a shared responsibility and it has certainly shown in the results," Prock said to the council. "I am extremely pleased with how we have been working hard to make those results happen."
Prock said 2020 was the third year in a row that crime in the city has seen a double-digit decrease.
"That is something that you all should be very, very proud of. So, thank you for that," Mayor Brenda Bethune said to Prock.
Copyright 2021 WMBF. All rights reserved.