Saxton posts double-double as No. 4 South Carolina beat No. 21 Miss. St.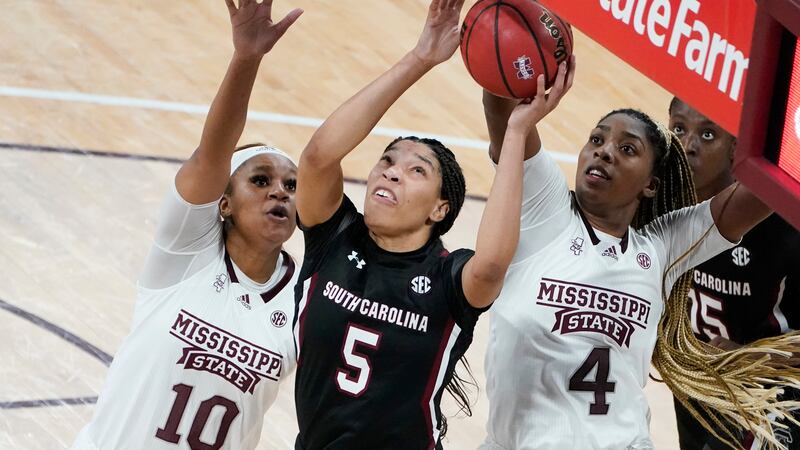 Updated: Jan. 28, 2021 at 10:00 PM EST
COLUMBIA, S.C. (WIS) - In Dawn Staley's first meeting with former assistant and Mississippi State head coach Nikki McCray-Penson, the SEC rivalry contest saw Zia Cooke and Victaria Saxton lead the fourth-ranked Gamecocks past the No. 21 Bulldogs for a 75-52 win.
The Bulldogs came out fast and put together a 7-2 run at home against Carolina (13-1). However, the momentum for Mississippi State in the opening period was short-lived as Cooke and Brea Beal scored nine as the Gamecocks held Mississippi State to 25% shooting from the flood cutting the deficit to 11-10 at the end of the quarter.
The Gamecocks went on a 12-0 run to open the second period. Cooke scored Carolina's first six points of the quarter and the run pushed Carolina ahead 22-11 with 6:26 left in the half. Cooke scored 13 of her 19 points in the first half to help the Gamecocks take a 36-23 at the break.
"We have to settle down," Staley said about her team's adjustment between the first and second quarters. "A lot of times when we take people's first punch, we start punching back and we're throwing Hail Marys. We're just trying to swing and, sometimes, that knocks you out and I thought that knocked us out in the first quarter. Just settling in and taking what the defense gives us although they were disrupting and rushing us a little bit. We had to settle in."
Saxton got to work in the second half for Carolina. The 6-foot-2 forward posted seven points in the third quarter as the Gamecocks entered the final period with a 54-41 lead.
Saxton ended the night with 13 points and 11 rebounds for the Gamecocks.
Carolina clamped down defensively in the fourth holding Mississippi State to just 31 percent from the floor in the final quarter. Meanwhile, the Gamecocks outscored the Bulldogs 21-11 to cruise to victory.
LeLe Grissett finished the night with 11 points as Laeticia Amihere had seven points and seven rebounds. Aliyah Boston came away with six points,12 rebounds, and three blocks, which moved the sophomore into 10th place in program history for career blocks. She has 133 blocks in 47 games.
The win now gives South Carolina 24 straight SEC regular-season wins.
Carolina will host Alabama at 3 p.m. on Sunday.
Copyright 2021 WIS. All rights reserved.