Boston posts historic triple-double as No. 4 Gamecocks roll past No. 22 Georgia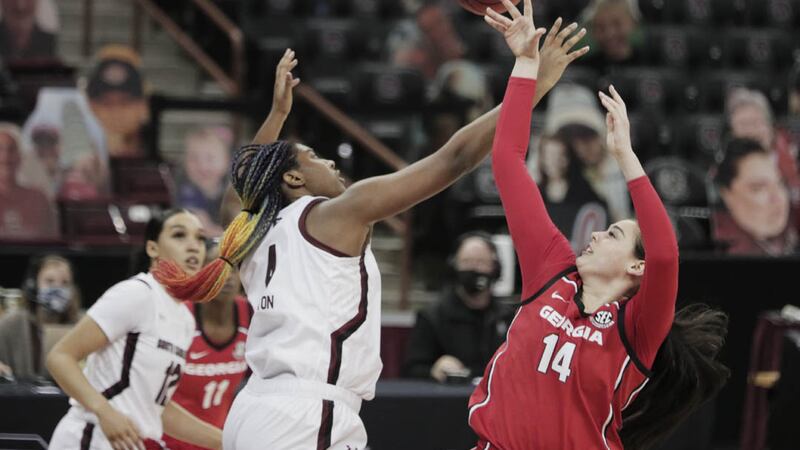 Updated: Jan. 21, 2021 at 8:30 PM EST
COLUMBIA, S.C. (WIS) - Aliyah Boston posted 16 points, 11 rebounds, and 10 blocks to lead the fourth-ranked Gamecocks to a 62-50 win over No. 22 Georgia.
Things started slow for both teams and the Gamecocks and Bulldogs combined for just 18 points in the first eight minutes of play. However, Zia Cooke helped Carolina extend their lead by scoring the last two baskets of the quarter pushing the home team ahead 15-10.
Carolina put together a quick 7-0 run with Boston leading the charge to start the second quarter to take a 22-10 lead. Boston scored seven of her 11 first-half points in the quarter.
Georgia managed to cut the deficit to six with 4:32 to go in the half on a Mikayla Coombs layup, but the Gamecocks would ultimately finish the half with a 30-18 lead with Cooke capping the period with a buzzer-beating jumper.
The third quarter saw the Gamecocks create even more separation. Carolina went on a 14-4 run to take a 24-point lead. Carolina finished the period ahead 50-28.
Georgia would outscore Carolina 22-12 in the final quarter, but it was too little and too late for the Bulldogs.
Boston now has two career triple-doubles following her effort Thursday night.
Cooke ended the night with 16 points while Victaria Saxton and Brea Beal each scored nine points.
The win now gives Carolina 22 consecutive SEC regular-season wins and five wins over ranked opponents this season. The Gamecocks have now won 13 straight against Georgia.
Carolina moves to 11-1 overall and 5-0 in SEC play. They'll travel to LSU on Sunday.
Copyright 2021 WIS. All rights reserved.