Lawson torches Aggies for 30 in dominant win for Gamecocks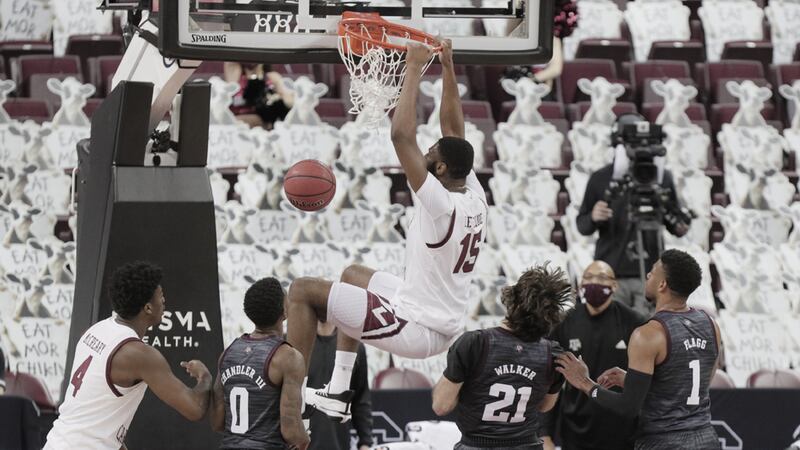 Updated: Jan. 6, 2021 at 11:46 PM EST
COLUMBIA, S.C. (WIS) - South Carolina guard AJ Lawson dropped a career-high 30 points to lead the Gamecocks to a 78-54 win over Texas A&M.
The Gamecocks (3-2, 1-0) started the game on fire. Behind the play of Lawson and fellow guard Jermaine Couisnard, Carolina jumped ahead 20-8 with 12:11 left in the first half.
Texas A&M responded with a run of their own, scoring 11 straight points to cut the lead to 20-19 with 8:25 to play in the half.
Wildens Leveque and Jalyn McCreary helped the Gamecocks create some separation late in the half on their way to taking a 33-27 advantage into the locker room at the break.
Lawson would take over in the second half for the Gamecocks. He'd score 19 of his 30 points in the second half.
At one point, Carolina led the Aggies by as many as 29.
The Gamecocks shot 42% from the field and 33.3% from behind the 3-point line. The Aggies were held to 34% shooting at Colonial Life Arena with only two players scoring in double figures.
Carolina will travel to Ole Miss on Saturday. Tip-off is at 6 p.m. and the game will be televised on the SEC Network.
Copyright 2021 WIS. All rights reserved.