SC Navy veteran loses everything after his houseboat sinks Christmas night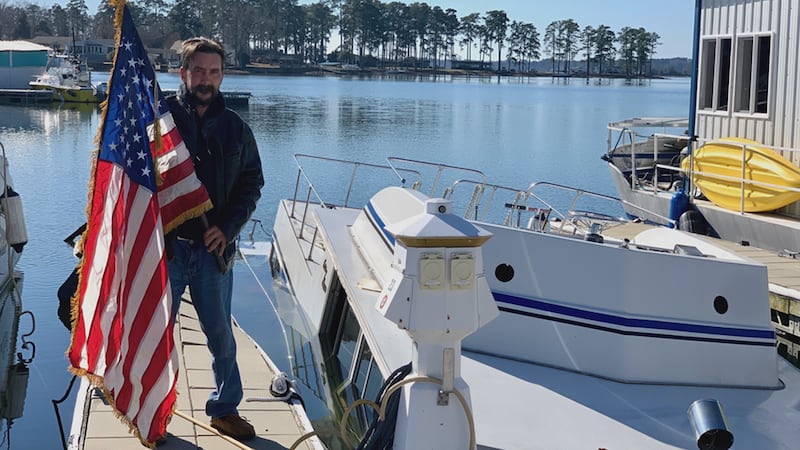 Updated: Dec. 30, 2020 at 7:47 PM EST
COLUMBIA, S.C. (WIS) - A disabled Navy veteran has lost everything he owns after his houseboat on Lake Murray Marina sank Christmas night.
Robert Simpson, 49, served seven years in the United States Navy as a welder and was part of Operation Desert Storm, but he was medically discharged after his arthritis in his fingers and toes severely progressed. He's now on 100% disability and struggles with his insulin.
On Christmas night, when winds began to pick up on the lake, Simpson was asleep on his couch. His blood sugar had risen dangerously high, so he didn't realize his boat was taking on water.
"I was in a sleep mode and, before I knew it, me and the dogs were submerged in the water," explained Simpson. "If it weren't for Terry Conner, a friend of mine a few slips down, coming over to say Merry Christmas, me and the dogs would have sunk."
Because of Simpson's medical condition, Conner says he drops by frequently to check on him, and he says he was in the right place at the right time.
"I went there and opened the sliding glass door, and his deep freezer was floating around," said Conner. "I'm like, 'Holy crap bro!', and I'm like, 'Robert, get up! get up! Your boat is sinking!' I believe in karma, so karma put me there at that time."
It took less than 30 minutes for the 35-foot houseboat to sink, and the only items that neighbors have been able to help Simpson recover are his car keys, some medication, and his Navy hat and flag.
"It was one of the items he was most excited about," said neighbor Lisa Heisler who's helped Simpson gather necessities and has also started a GoFundMe page to raise money for the 49-year-old veteran. "The hat really meant a lot to him. When we pulled it out, he just said, 'Oh, my hat!'"
For Simpson, living on Lake Murray is the closest he's felt to his time in the service, and he's grateful for the support of his community.
"I get choked up when people do things for me, so it makes me want to open up and cry on their shoulder," he said. "That's how heartfelt this is for me."
"He's got a really good attitude, but we've also seen him when it occasionally hits him, and this was everything he owned, every single thing he owned," explained Heisler. "Every time he comes out here and looks at the boat, you can see he's really struggling with it."
Right now, a neighbor is letting Simpson live in her houseboat on the marina, which is for sale. Neighbors are hoping to raise enough money through a GoFundMe to help Simpson put a down payment on that houseboat, so he can stay on the water and close to the people he knows and loves.
If you'd like to help Simpson, you can donate by visiting this link.
Copyright 2020 WIS. All rights reserved.